Washington 23-31 Dallas Cowboys
Chicago Bears 23-16 Detroit Lions
Atlanta Falcons 17-31 New Orleans Saints
Ezekiel Elliott puts quarterback Dak Prescott in the Salvation Army kettle after scoring a touchdown against Washington. Photograph: Larry W Smith/EPA
Amari Cooper celebrated his first touchdown with a mock free throw before a 90-yard score that sent him to a Dallas Thanksgiving-record 180 yards receiving, and the Cowboys pulled even with
Washington
atop the NFC East with a 31-23.
Elliott ran for 121 yards as the Cowboys (6-5) won their third straight game since their first home loss, to Tennessee in the Dallas debut of Cooper. Dallas' eighth win in nine Thanksgiving games against Washington, and second in three years, earned a season split.
"Everyone jumped off the bandwagon, of course, at 3-5," quarterback Dak Prescott said. "You expect that. I can tell you who didn't doubt ourselves. As long as we locked arms, we stayed tight, we knew we could do this and we can do more. That's the only thing that matters to us."
Zeke still doing the most good. #FightForGood pic.twitter.com/TaN7avn9OV

— Dallas Cowboys (@dallascowboys) November 23, 2018
Washington (6-5) lost for the third time in four games in Colt McCoy's first start in four years coming off Alex Smith's season-ending leg injury. The former Texas Longhorns star threw three interceptions to offset two touchdown passes. McCoy won his two previous starts at the home of the Cowboys, one for the 2009 Big 12 championship and the other his most recent
NFL
victory with Washington in 2014.
Chicago Bears 23-16 Detroit Lions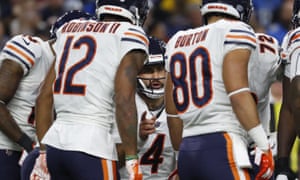 Chase Daniel outplayed Matthew Stafford, proving an NFL journeyman can beat one of the highest-paid players in the league.Daniel threw a career-high two touchdowns to keep the
Chicago Bears
rolling with a 23-16 win over the Detroit Lions, filling in very well for injured quarterback Mitchell Trubisky.
"You don't know when these opportunities will come," the 32-year-old Daniel said after making the third start of his career and first in nearly four years. "You just have to make the most of them."
Daniel finished 27 of 37 for 230 yards, setting career highs in each category. He threw a go-ahead, 10-yard touchdown pass to Taquan Mizzell in the second quarter and a 14-yard pass to Tarik Cohen in the fourth to give Chicago the lead again at 16-13.
It was quite a performance for Daniel, a player who has been used sparingly since the former Missouri star entered the league in 2010. He barely played for New Orleans, Kansas City, Philadelphia and Chicago, but gained respect from coaches and players for his preparation.
"Everyone in this locker room knew what he was going to do, and he didn't let us down," Mizzell said. "People forget how long he's been in the NFL and how much talent he has. They talk about the number of games he's started, but the people that practice with him every day knew that he was going to give us a chance to win this game."
Atlanta Falcons 17-31 New Orleans Saints
In the late Thanksgiving game, the Saints continued their brilliant season as they moved to a 10-1 record, tied for the best in the NFL with the Los Angeles Rams. Drew Brees threw just his second interception of the season but more than made up for it with four touchdown passes. The Falcons' season is all but over after they fell to 4-7 after another tough loss.
SOURCE https://www.theguardian.com/sport/2018/nov/22/thanksgiving-nfl-football-dallas-cowboys-washington