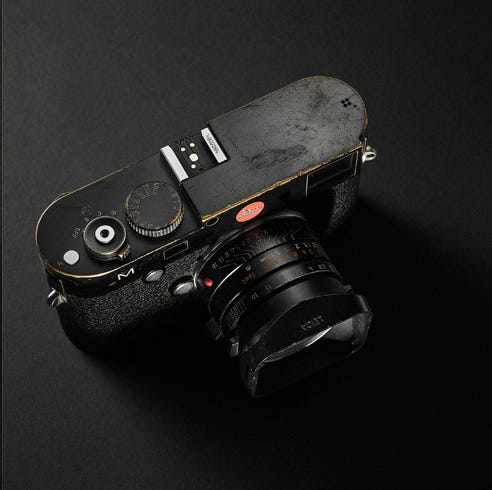 Adventurers have more high-tech equipment at their disposal than ever before. Ask them to pick their favourite, however, and they'll probably point to the simplest in their arsenal; a low-key piece of kit that has – in one form or another – helped explorers on their intrepid travels for centuries...
1. Leo Houlding – Free Climber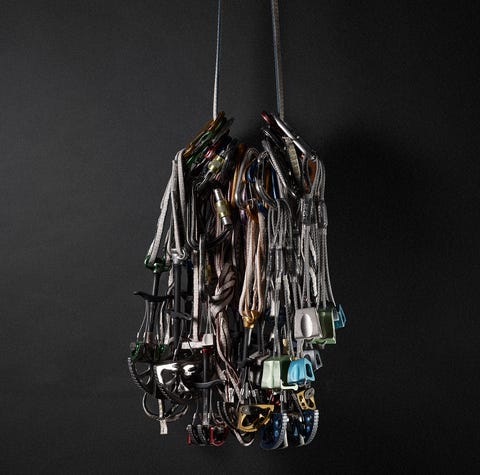 Free solo climbing rack
"Occasionally, I can't be bothered to tell people what I do, so I just say I work in marketing," says British rock climber Leo Houlding. Having undertaken his first climb aged 10, Houlding became the British Junior Indoor Climbing Champion six years later. At 18, he was the youngest Briton to free climb The Prophet, a notoriously tough section of the infamously difficult El Capitan in Yosemite National Park. Specialising in free climbing technical peaks and the world's biggest walls, Houlding has more recently taken up para-alpinism (climbing up, then flying down). Later this year, he travels to Papua New Guinea to tackle the world's tallest trees and then to Guyana for Mount Roraima, its 12sq mile summit area bounded on all sides by 400m cliffs. "The single most important thing about expeditions is the people you're with," Houlding says. "One day into a 65-day expedition in Antarctica, three of us faced winds of 50mph with a real wind chill factor of –73F. That's cellular freeze in less than two minutes. We sat it out in the tent: 'It can't get any worse than this!' Being a climber gives you a unique outlook on life. When you come home and someone's stressing about how dirty their white trainers are, it does put things into perspective."
2. Ed Stafford – Explorer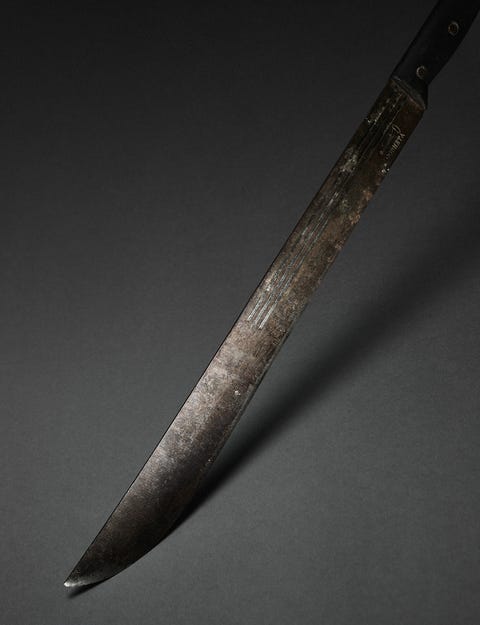 Brazilian Corneta carbon steel/propylene machete
Ed Stafford is a former British Army captain who, in 2010, became the first human to walk the length of the Amazon River. It took him two years and three months and earned him a Guinness World Record. He has been described as "Britain's most intrepid hero since Scott of the Antarctic".
"I wouldn't go into a jungle without a machete," Stafford says. "You can use it to put your hammock up, chop firewood to keep warm, clear a path and de-scale fish. The one thing people in the Amazon will always have on their backs is a machete."
3. Inge Solheim – Adventurer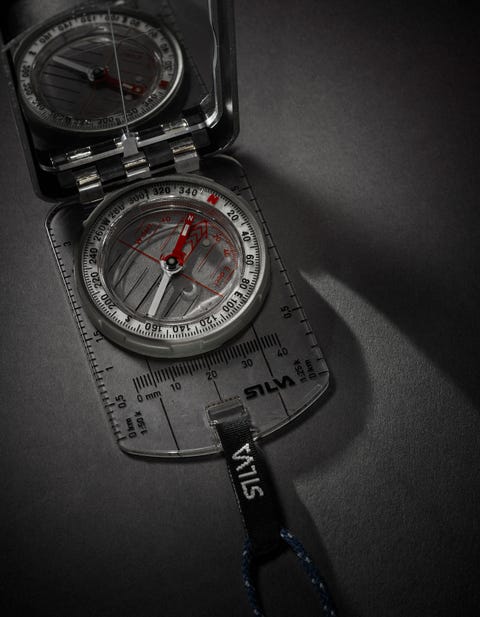 Silva Compass
One of the world's leading adventure guides, Inge Solheim grew up in Norway's highest mountains, which he began exploring from the age of six. He has guided, explored and consulted in some of the most extreme environments on Earth. Solheim was the expedition leader for Prince Harry's charity Walking with the Wounded, guiding the Prince and wounded soldiers to the North Pole in 2011 and South Pole in 2013.
"Accumulating experience is how you get good," Solheim says. "Being comfortable outdoors, learning to manage your health and equipment is key. Don't start on the North Face of the Eiger, start smaller and build up a solid base of experience. Nowadays, there are so many quick fixes but you can't build a deep confidence and competence with quick fixes. If you end up in a situation that is critical your shallow experience will turn that into a dangerous situation. So build over time. Enjoy the process of learning. Focus less on the goal and enjoy the process. It's a beautiful way of making friends. What we human beings have in common is we belong to the natural world. Human beings are nature. We're just disconnected a bit. We've just lost this sense of belonging in nature. But it takes just a few days to get back to that feeling. And if you can share those experiences with other people, it's even more powerful."
Inge Solheim is a Breitling ambassador and part of The Breitling Explorer Squad
4. Mark Wood – Polar Explorer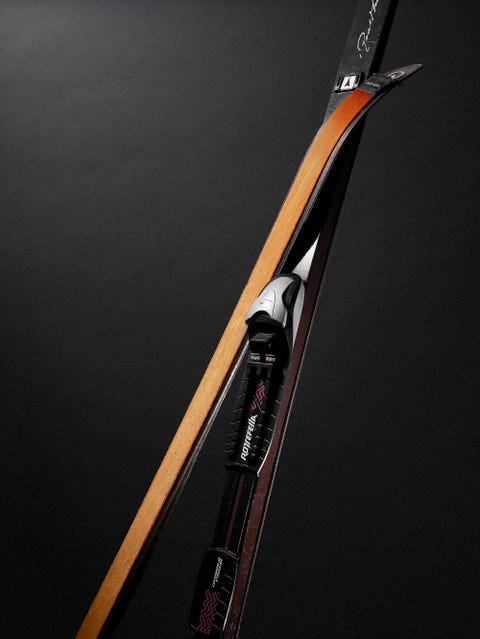 Asnes Roald Amundsen BC Skis
After serving in the British Army and as a firefighter, Mark Wood went on to train and lead teams to the Arctic Circle, the Himalayas, Antarctica and Alaska. In 2011–'12 he attempted to become the first person to ski solo to both the South then North Poles, the final part of his journey cruelly cut short by Canadian bureaucracy. "Helping people is so rewarding it has inspired me to give up everything in life," Wood says. "I had a house, a job, a pension. But when you've seen the Arctic and how beautiful this planet is, and how wonderful the animals are, then it became my duty to go out there and explore and tell good stories."
It hasn't always been easy. "Two days into one Antarctic expedition I lost my iPod. I had 48 days of silence and whiteness ahead of me. My ski bindings snapped. My knees swelled up. I'd done 30 nautical miles and I should have done 80. I sat in my tent for 36 hours and broke down. You just have to put your thoughts elsewhere. I love my dogs, so I imagined walking them along the Norfolk beaches and smelling the pines and sea air. I looked at all those nautical miles in front of me and did the only thing I could do: ski."
5. Mick Fowler – Mountaineer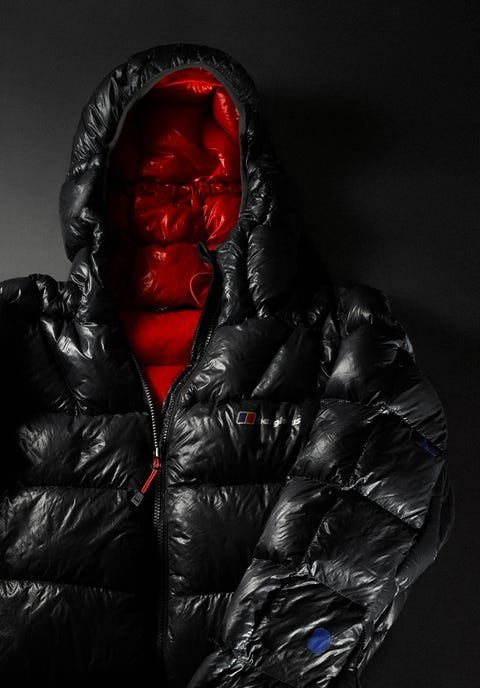 Berghaus Extrem jacket
He has been awarded the Piolet d'Or, the most prestigious award in mountaineering, three times. He's also been described as "the mountaineers' mountaineer". Mick Fowler has climbed sea stacks and sea cliffs all over the world as well as mountains including the Western Gully of Kilimanjaro, the North Face of Changabang and the Prow of Shiva.
Prior to that he used to work for the tax office. "How you approach a climb mentally, that's the key," he says. "Nowadays, it's possible you'll spend the night on extremely steep rock faces. The worst night we had was just hanging from a single nut, wedged in a crack. There were two of us, hanging like a bunch of bananas. We didn't want to get into our sleeping bags because we knew we'd get so much snow in there it would turn into a ball of ice and we'd have to retreat. So we just put all our clothes on and hung there for the night. That was on Mount Siguniang, the highest peak in the Qionglai Mountains in Western China. I wouldn't say it was a good night's sleep. But it was more exciting than working in the tax office."
6. Karen Darke – Paralympic Cyclist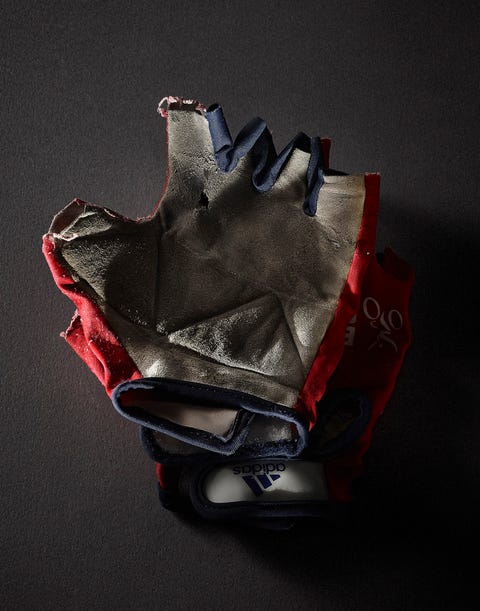 Adidas gloves
Karen Darke MBE is a Paralympic cyclist, paratriathlete and adventurer. She has climbed Mont Blanc, the Matterhorn and El Capitan and hand-cycled, skied and swum Japan from top to bottom. She has also crossed Greenland's ice sheet by sitting on skis and using her arms as poles to cover the 372-mile distance. In 2010, Darke became a member of the British Para-cycling team. Representing Great Britain in women's road cycling, she won silver at the 2012 London Olympics and gold at the 2016 Rio Olympics.
In 2017, she began cycling across seven continents in nine rides, to raise £79,000 for The Spinal Injuries Association. "My parents got me into the outdoors. I always grew up around mountains, getting out and about," she says. "When I was 16 I saw an advert at school in Yorkshire for an expedition to remote China, which I dismissed as something I couldn't do. Mum and Dad encouraged me and that was it. That started my interest in getting fit. The first time I got on a bike and went downhill, I thought I was going to die."
7. Levison Wood – Explorer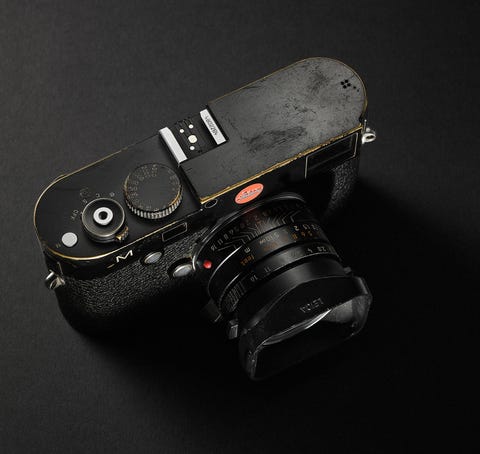 Leica M Typ 240 camera
Explorer, writer and photographer Levison Wood has hiked the entirety of the Himalayas, completed a 5,000-mile circumnavigation of the Arabian Peninsula from Iraq to Lebanon and led expeditions along the River Nile. "I'm rarely on my own. Staying with local people, whatever their culture, I've found that people are generally the same. War zones, places with extreme poverty: that's where you're offered the warmest welcome. The worst part of human nature often brings out some of the best in people."
Wood's smashed Leica is a memento from the night his taxi fell 450ft off a cliff into a Nepalese valley. "My camera went flying through the window, along with my other belongings, and myself," Wood says. Did time slow down? "No. I thought I was going to die. It was sheer terror, absolute terror. It was horrific.
8. Chris Jewell – Cave Diver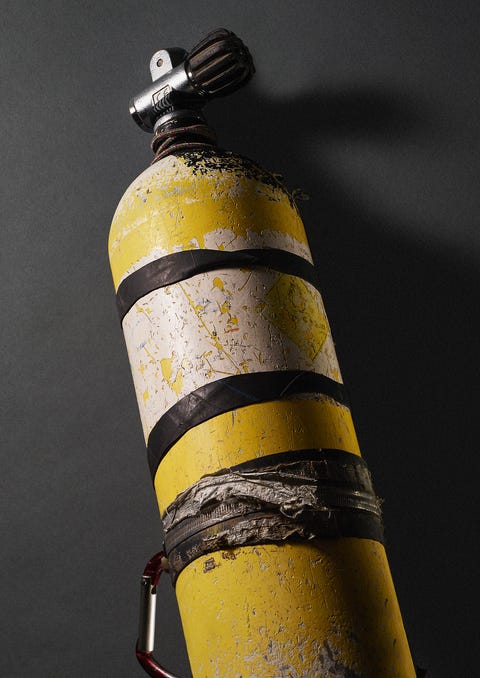 Oxygen cylinder

Chris Jewell is a member of The Cave Diving Group of Great Britain and Northern Ireland, the oldest organisation of its kind in the world. He is also the British Cave Rescue Council's Diving Officer. In 2013, he organised an expedition to Mexico's Sistema Huautla cave system, the deepest such system in the Western Hemisphere, 5,069ft from top to bottom, with 40-plus miles of mapped passageways. In 2018, he made global headlines with three other Brits, leading the expedition that successfully rescued 12 members of a junior football team trapped in the Tham Luang Nang Non cave in Chiang Rai Province, Thailand. "Caving is a physical as well as mental challenge," Jewell says. "It requires physical skill to conduct the dive, but there's also a mental challenge in terms of planning, the logistics. Cave diving is a problem-solving exercise. When we're planning a dive, we're planning to go further than the last human explorers, so we've got to understand what stopped them. We've got to work out how to get past that problem."
SOURCE https://www.esquire.com/uk/design/g28209129/adventurer-equipment-they-cant-live-without/