Karlis Bardelis is in Papua New Guinea preparing for the final leg of the two-year row from Peru, across the Pacific, to Malaysia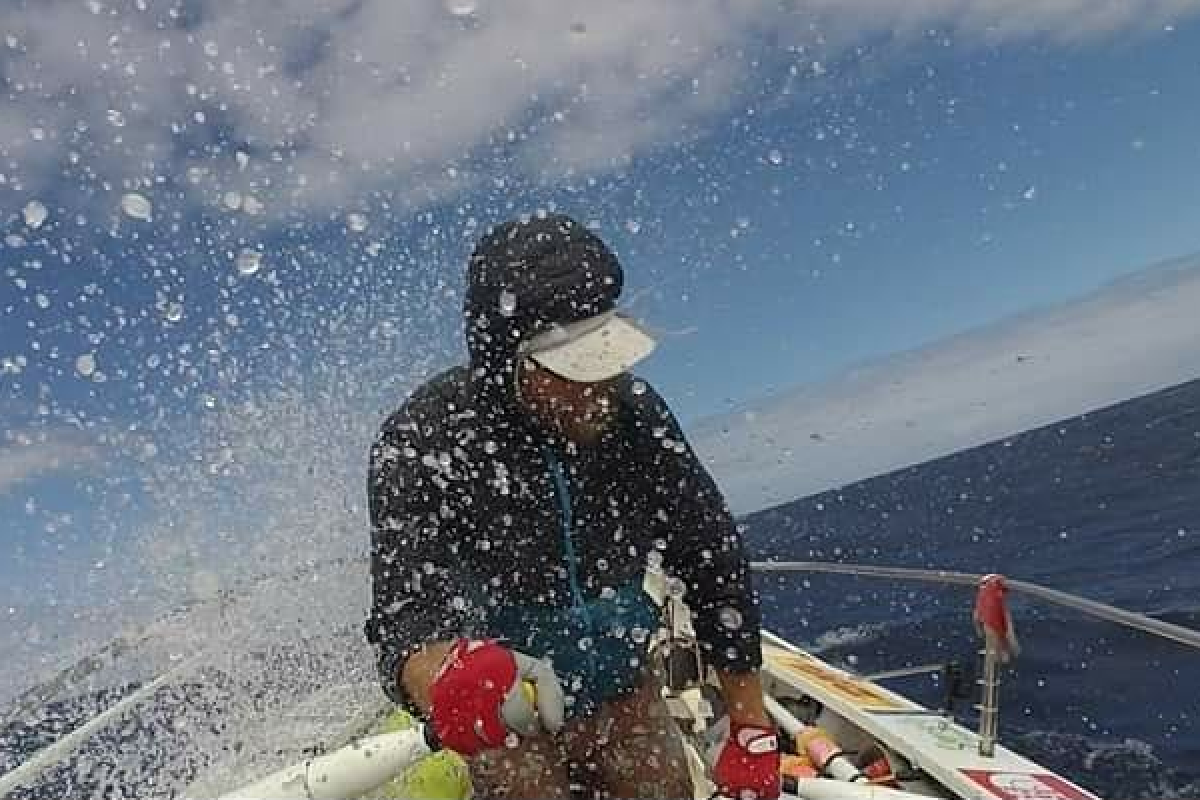 ‎Kārlis Bardelis rowing from Peru, across the Pacific, to Asia. Photo: Handout
Karlis Bardelis is almost immune to fear after all of his adventures, but as he neared Papua New Guinea after rowing across the Pacific solo, he was confronted by a terrifying reality.
"I have developed a skin not to be scared, but as I came close to Papua New Guinea there were really aggressive sharks," he said. "They were hitting the boat, I thought it could be bad as it's only marine plywood. Every morning, the sound was like someone was trying to destroy the boat. There was nothing I could really do. Then, I developed a new level of fear."
The 34-year-old Latvian left the shores of Peru in July 2018. He rowed for 140 days before hitting Hiva Oa, a tiny island in the Marquesas Islands. It was then another two months to Tuvalu, where he caught Dengue fever. He stopped again in the Solomon Islands and finally made landfall in northern Papua New Guinea. Bardelis is now in Manado, Indonesia, waiting for the right time of year to make for Malaysia. If successful, he will become the first person to row from South America to the Asian mainland.
"It's refreshing to stop on an island, but it's very hard to hit them," he said. "Somewhere like Tuvalu is like a peanut in the ocean."
Leaving land is never hard, though. He enjoys the company of the locals but "I don't see [my time at sea] as suffering. I can't wait, it's like a positive impulse to leave."
Bardelis is raising money for Plecs, which helps orphans find families in Latvia.
Bardelis is very positive by nature but "in terms of low moments, of course I have them. I'm not a robot."
One such low moment was as the wind pushed him north. He aimed for Port Moresby, on the south coast of Papua New Guinea but had to change his plans.
"In general, I'm more positive than negative. But when I feel low for a moment, I ask 'how does this help?' and of course it does not help," he said.
"As I was pushed north, I turned my attitude upside down," Bardelis said. "I thought, if someone is pushing me I need to pull, and not push against them, like in martial arts. It's one thing you cannot fight against, the power of the ocean."
Bardelis' journey is part of an epic around-the-world adventure. He rowed across the Atlantic in 2016, with a friend from Latvia. He cycled across South America. When he hits Malaysia, he will decide whether to attempt to row across the Indian Ocean or cycle across Eurasia to complete his circumnavigation. He is chatting to fellow human-powered adventurer Mark Pukonen about linking up and continuing together.
When Bardelis leaves the Pacific he will enter the far-more congested South China Sea. At times, he will be asleep in the dark and ocean rowing boats are so small, it is almost impossible to notice them.
"Of course I have AIS [Automatic Identification System, which makes boats visible on radar] and big ships have radar, but it's the little fishing ships I'm more worried about. They don't have radar, they don't even have a radio," he said. "In the Pacific, there are months without seeing a ship, but as I got closer to Papua New Guinea I saw a few."
"I cannot even compare the traffic I'll see when I get close to Singapore," Bardelis said. "I wont know how I feel about the traffic until afterwards. There's also the risk of robbery, or pirates, but there is not much to take from me."
His biggest challenge may be returning to civilisation. Bardelis hopes to land in Malaysia in July, a full two years after he set off.
"I visited the biggest town near here [in Indonesia], it [only had a population of] 600,000 people and I was getting frustrated with the traffic," he said. "Who know's how I'll react when I meet real civilisation. It's actually crazy when I think about it – two years. But it's where I feel most alive, in adventure."
You can donate to Bardelis' charity cause here.
SOURCE https://www.scmp.com/sport/outdoor/extreme-sports/article/3045129/ocean-adventurer-rowing-south-america-malaysia