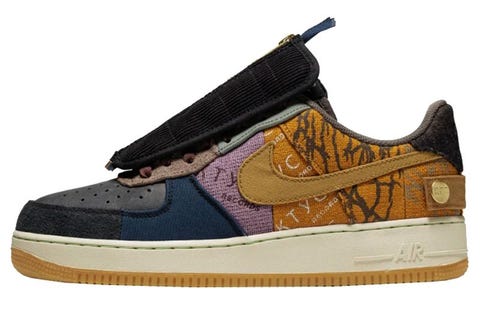 1 of 58
Nike x Travis Scott Air Force 1 'Cactus Jack'
Travis Scott's collaboration with Nike and Jordan is the gift that just keeps giving. These Air Force 1s are the latest of the bunch, and one of the best. That zipped lace cover is removable, by the way. And the shoes look even better without it.
Original Release: 11/16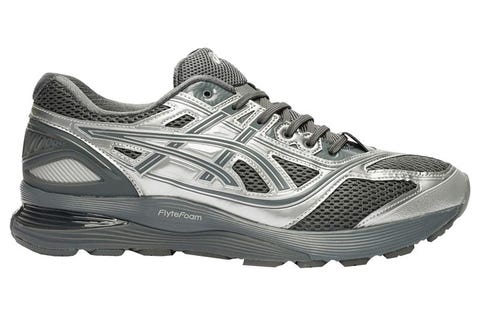 2 of 58
Asics x Kiko Kostadinov Gel-Korika
Asics doesn't make as much noise in the hyped-sneaker world as some of its competitors, and that's what makes it great. This collab, with fashion designer Kiko Kostadinov, is a little weird, a little norm-y, and just different enough to feel fresh.
Original Release: 11/16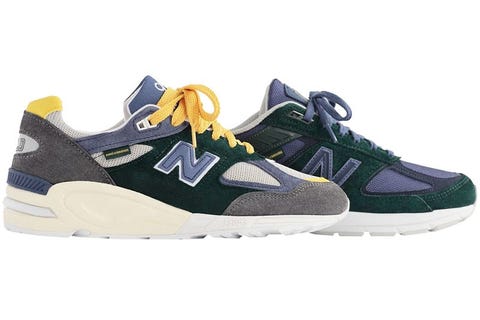 3 of 58
New Balance x Aimé Leon Dore 'Life in the Balance' Pack
These are the shoes that launched a thousand Ls on the day of release, after pretty much grinding the Aimé Leon Dore website to a halt. Not that we blame the folks flooding the servers—ALD's colorful treatment, combined with a couple classic 990 silhouettes, is a powerful thing to behold.
Original Release: 11/15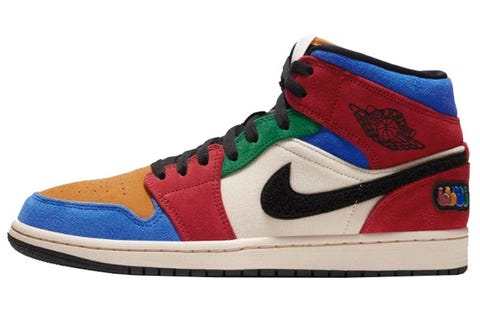 4 of 58
Air Jordan x Blue the Great 1 Mid 'Fearless'
The Air Jordan 1 Mid is a divisive shoe. Some folks are fine with it, while some sneakerheads are...well, let's just say they're not huge fans. Still, Jordan Brand is putting a big push behind the silhouette this year, and this color-blocked version from Blue the Great is as strong an argument for the mid as any.
Original Release: 11/9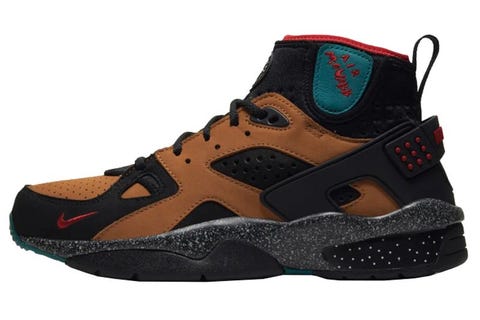 5 of 58
Nike x Olivia Kim Air Mowabb
Nordstrom's Olivia Kim brought a couple new touches to Nike's ACG classic, the Mowabb. There's a swoosh at the toe, plus a Huarache logo on the bootie—both small, but still different from what we've seen before.
Original Release: 11/8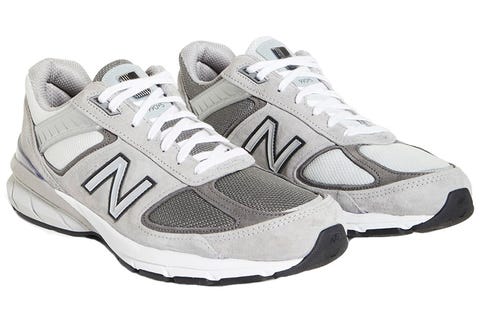 6 of 58
New Balance x Beams 990v5
A collaboration between New Balance and Japanese label Beams, facilitated by the folks at Nordstrom, this pair takes the new-this-year 990v5 and throws an asymmetrical treatment on the uppers. It's still subtle, but also incredibly cool.
Original Release: 11/7
SHOP $255, nordstrom.com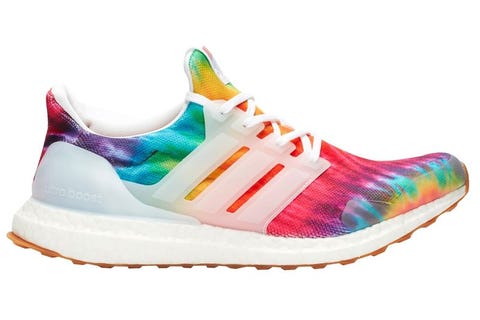 7 of 58
Adidas x Nice Kicks Ultra Boost 1.0
The Adidas Ultra Boost hasn't had a big year, but there's still a lot of love for the style—especially the 1.0 version. Leave it to Nice Kicks to wrap it in tie-dye and make it feel like an essential all over again.
Original Release: 11/1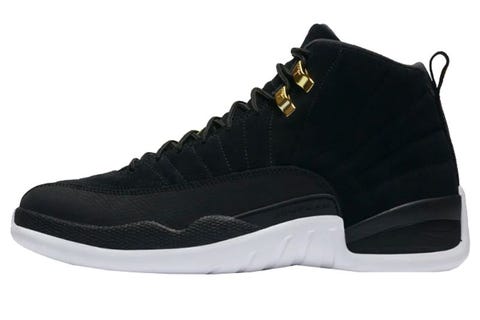 8 of 58
Air Jordan 12 'Black/White'
A flip of the much-beloved "Taxi" colorway, this one swaps a white upper and black sole for a black upper and white sole. It's not high-concept, but damn does it look good.
Original Release: 10/31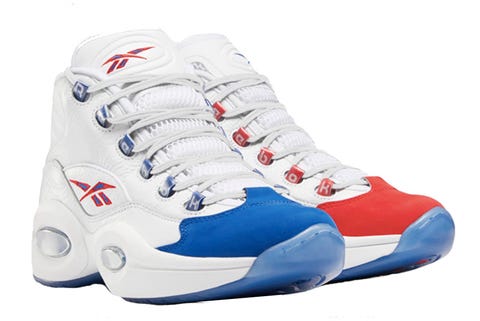 9 of 58
Reebok Question Mid 'Double Cross'
Anyone who grew up in (or even near) Allen Iverson's heyday has a soft spot for Reebok's Question Mid. This pair takes the red and blue colorways of the classic shoe and combines them, with red on the left and blue on the right. Simple. And effective.
Original Release: 10/23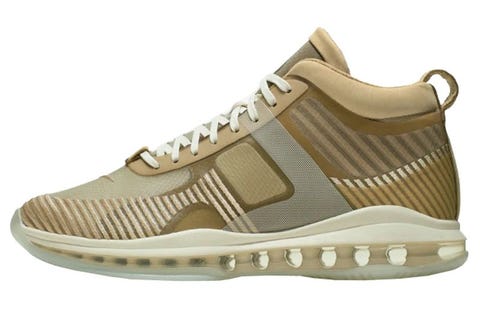 10 of 58
Nike LeBron x John Elliott Icon 'Parachute' Beige
The style isn't a new one, but the colorway is, in our estimation, the best one so far. Hats off to L.A.-based designer John Elliott for taking cues from a true court shoe and creating something you can easily wear off the court.
Original Release: 10/9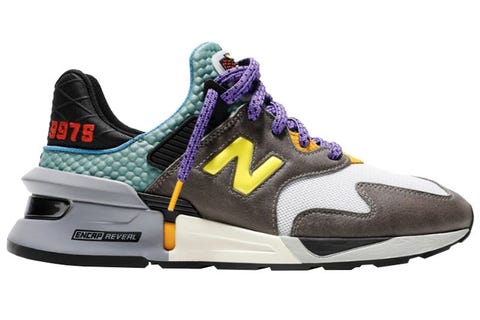 11 of 58
New Balance x Bodega 997 Sport 'No Bad Days'
The follow-up to New Balance and Bodega's "No Days Off" collab from the spring, the "No Bad Days" 997S layers on even more texture and color. It's an attention-getter, in a good way.
Original Release: 9/28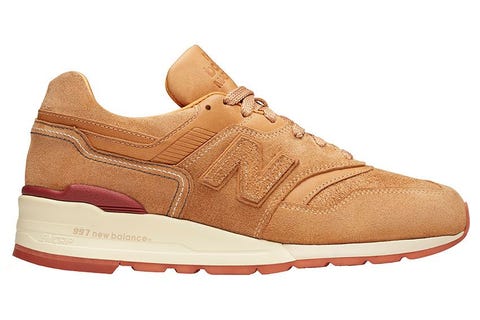 12 of 58
New Balance x Red Wing 997
On the other side of the New Balance aesthetic spectrum, there's this pair of 997s done in collaboration with Red Wing, using the latter's famous leather. They're not exactly toned-down—the leather is a neck-breaker of its own sort—but they feel quite classic.
Original Release: 9/21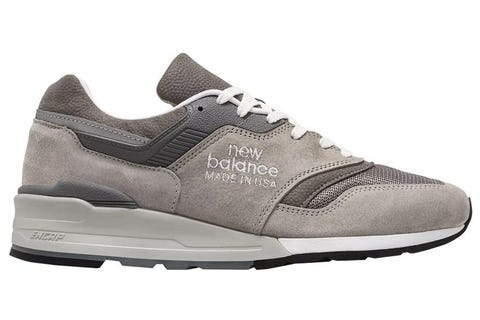 13 of 58
New Balance 997 'Grey Day'
Want proof that New Balance doesn't need a collaborator to make something truly great? How about this pair of made-in-the-States 997s, which replace the iconic "N" with the embroidery usually found on the tongue. No surprise, these didn't last long when they were released on "Grey Day" to celebrate the brand's favorite color.
Original Release: 9/5
14 of 58
Air Jordan 1 'Obsidian'
It's a UNC-inspired Air Jordan 1, and the colors themselves are extremely wearable. Of course we love it.
Original Release: 8/31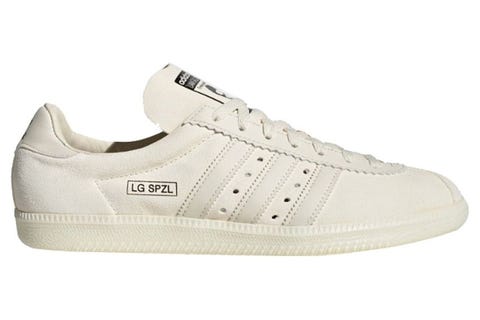 15 of 58
Adidas LG SPZL
Liam Gallagher—yeah, the guy from Oasis—has his own Adidas shoe. And guess what? It's really damn cool. Gallagher has always had a decent hold on English casual style, so when you think about it, this should come as no surprise.
Original Release: 8/30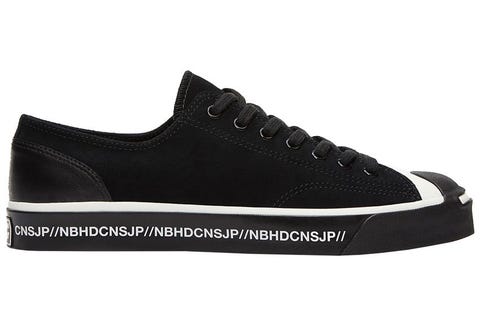 16 of 58
Converse x Neighborhood Jack Purcell Ox
Converse is exceptionally skilled at collaborating, maybe because so many of the brand's shoes are simple enough to be great canvases (sometimes both literally and figuratively). This two-tone, text-enhanced riff on the Jack Purcell Ox is one of our favorite team-ups of the year from the brand.
Original Release: 8/24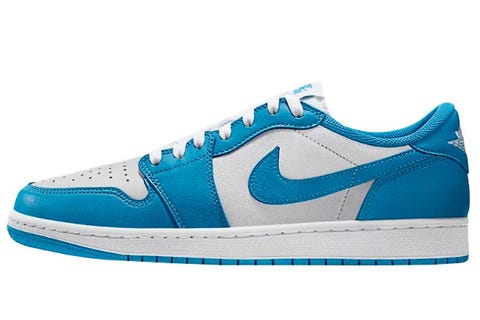 17 of 58
Air Jordan 1 SB Low 'Dark Powder Blue'
According to lore, these are based on a pair of AJ1 Lows that skater Eric Koston wanted to buy when he was younger, only to have his mother decline to give him the money. His loss back then is now his—actually, all of our—gain in 2019.
Original Release: 8/12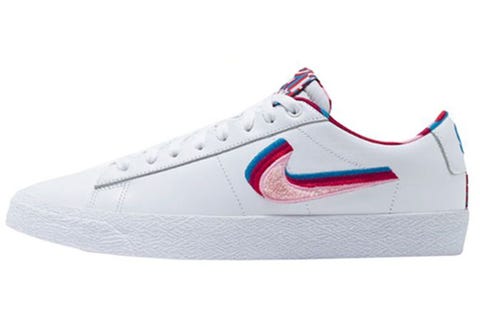 18 of 58
Nike SB x Parra Pack
Nike SB clearly had a very good year, including this two-sneaker pack done in collaboration with Parra. Both the Duno Low and the Blazer Low get embroidered embellishment and a multicolor lining. It's tough to choose a favorite, but the Blazer, sans mini-swoosh, might just be it.
Original Release: 7/27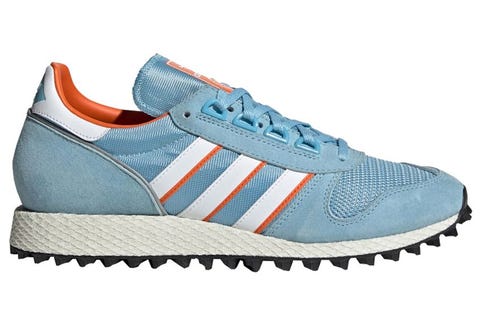 19 of 58
Adidas Silverbirch SPZL
There are a lot of SPZL entrants in the Adidas-specific list of best sneakers of the year. Whether that's because the brand's shoes with a more modern bent felt just a little less special, or because the men's fashion world seems to be moving towards a vibe that fits more neatly with this toned-down feel, we're hoping for more SPZL goodness in 2020.
Original Release: 6/22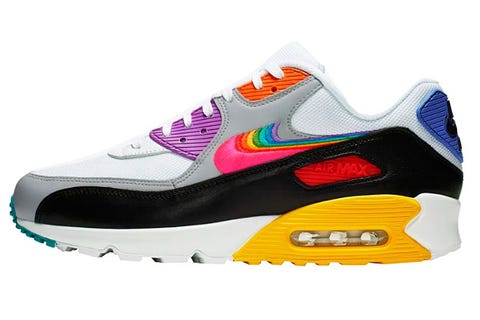 20 of 58
Nike Air Max 90 BETRUE
Nike pulled out all the stops for the 40th anniversary of Pride, using, for the first time, the original eight-color flag designed by activist Gilbert Baker as inspiration. These Air Max 90s apply that inspiration the most effectively of the whole bunch, feeling both wearable and special.
Original Release: 6/15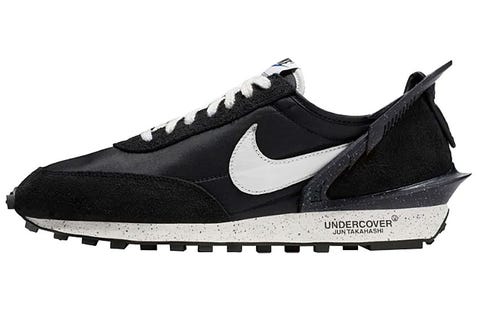 21 of 58
Nike x Undercover Daybreak
Leave it to a brand like Undercover to take something that seems a little crazy—a big ol' extended heel-plate-slash-sculptural-something-or-other—apply it to a classic Nike runner, and make the whole thing feel surprisingly approachable.
Original Release: 6/7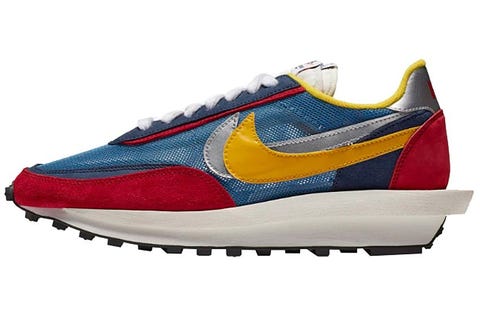 22 of 58
Nike x Sacai LDWaffle
No doubt one of the biggest releases of the year, the team-up between Nike and Japanese high-fashion brand Sacai led to two different sneakers with an out-there, double-up-on-everything approach. The Blazer/Dunk combo was good, but the LDWaffle, which combines the LDV and Waffle Racer, was a weirdo smash-hit.
Original Release: 5/30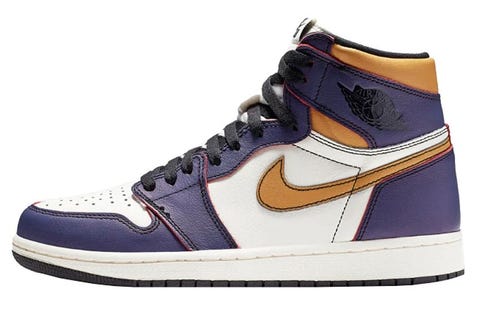 23 of 58
Air Jordan 1 SB 'L.A. to Chicago'
What's most interesting about these shoes isn't just what you see, but what hides below the surface. Rub that L.A.-inspired colorway away—perhaps while skating—and you'll reveal the black-and-red Chicago blocking beneath. Sneakers are meant to be worn and, crucially, worn in, and these ones really speak to that basic truth.
Original Release: 5/25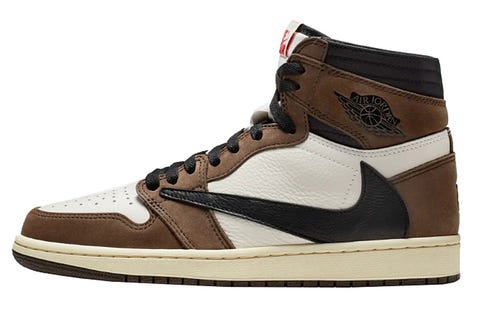 24 of 58
Air Jordan x Travis Scott 1 'Cactus Jack'
Travis Scott's partnership with Jordan has been a fan favorite from the jump, and this pair of 1s shows that it's still going strong. The black, white, and brown colorway is a nicely subdued setting for a reversed swoosh, and there's even a hidden pocket for whatever you have that might need hiding.
Original Release: 5/11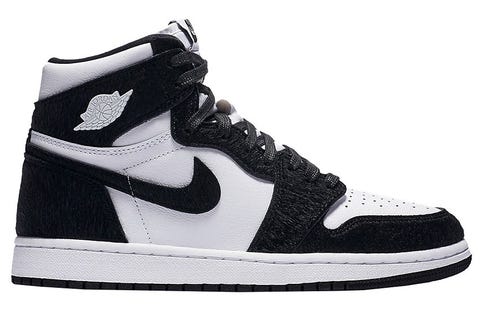 25 of 58
Air Jordan 1 'Panda'
A black-and-white AJ1 in a mix of hairy suede and smooth leather? What's not to like? The Panda was released in women's sizing, sure, but it's something that pretty much anyone can wear.
Original Release: 5/10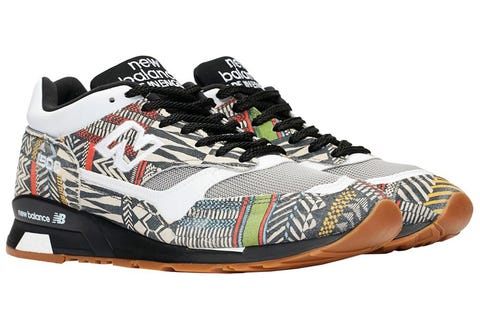 26 of 58
New Balance 1500 'Sample Lab'
New Balance has a reputation for understatement, but these "Sample Lab" 1500s are proof that the brand knows how to make a splash, too.
Original Release: 5/3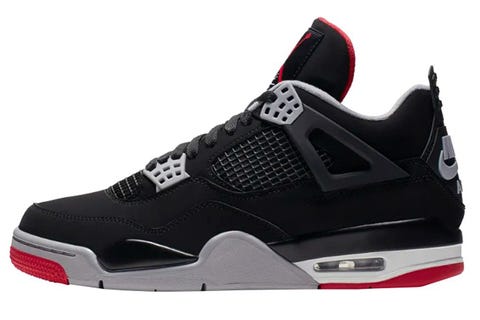 27 of 58
Air Jordan 4 'Bred'
The OG design, released in 1989, makes another appearance. It's just as cool—and as desirable—in 2019.
Original Release: 5/3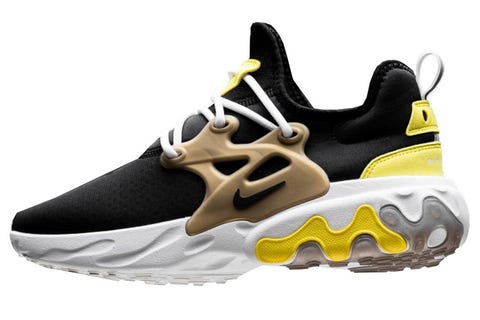 28 of 58
Nike React Presto 'Brutal Honey'
Reworking the Air Presto was a roll of the dice in theory, but the React version—especially in an old-school colorway—just plain works. Add in some incredibly comfy cushioning and you've got a winner.
Original Release: 5/2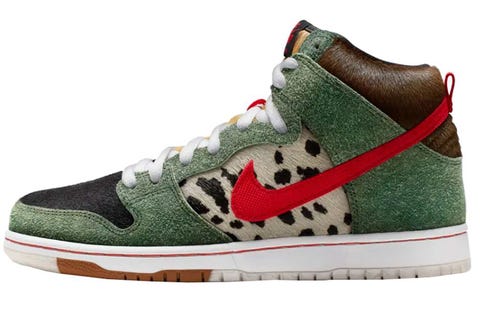 29 of 58
Nike SB Dunk High 'Walk the Dog'
These shoes are ostensibly an homage to many different dog breeds, and that's cool. But notice the release date. And all that green on the upper. Yeah, there's that, too.
Original Release: 4/20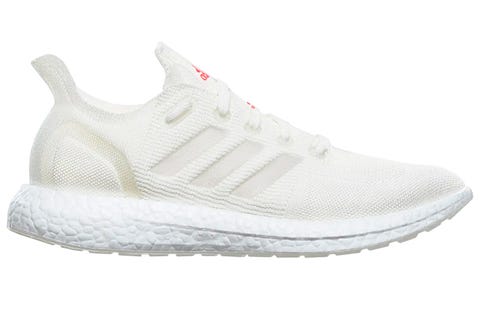 30 of 58
Adidas Futurecraft Loop
The Futurecraft Loop isn't available widely; the initial release was essentially a beta test. But even still, the idea of a shoe that's designed to be recycled—and one that actually looks great—is worthy of attention.
Original Release: 4/17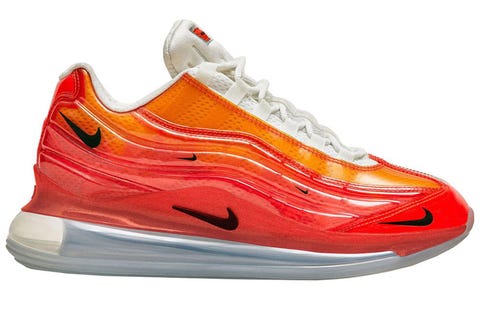 31 of 58
Nike x Heron Preston Air Max 720/95
The one you see here is just a single iteration of the many possible combinations that were available through Nike and Heron Preston's collaboration. It's all about keeping things personal.
Original Release: 4/15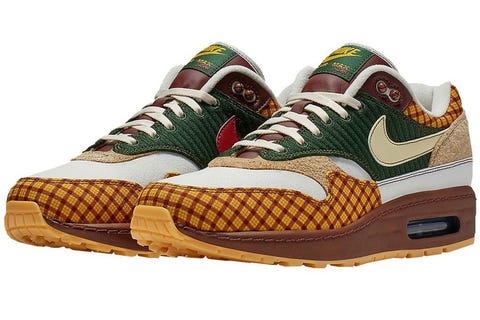 32 of 58
Nike Air Max 1 'Susan'
Released in conjunction with the movie Missing Link, the Air Max 1 "Susan" mashes up a bunch of disparate elements to make something entirely new. Kinda like evolution. (Kinda.)
Original Release: 4/12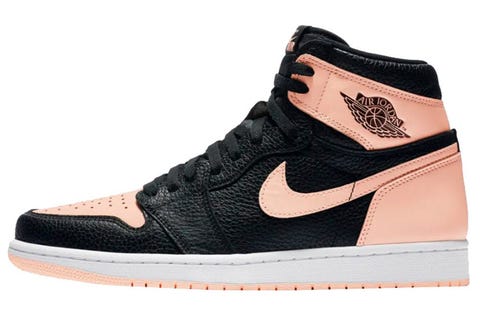 33 of 58
Air Jordan 1 'Crimson Tint'
Sometimes, even a silhouette as iconic as the Air Jordan 1 needs a shot in the arm. This colorway, making use of a very 2019 pink, gives it just that.
Original Release: 4/12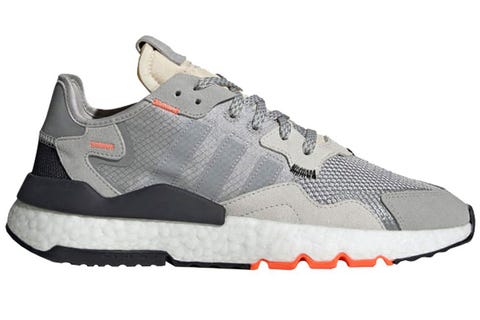 34 of 58
Adidas Nite Jogger 'Gray/Solar Orange'
The Nite Jogger is based on a style from back in 1984, but the construction—using a largely knitted upper and Boost midsole—is thoroughly modern. The combo works.
Original Release: 4/11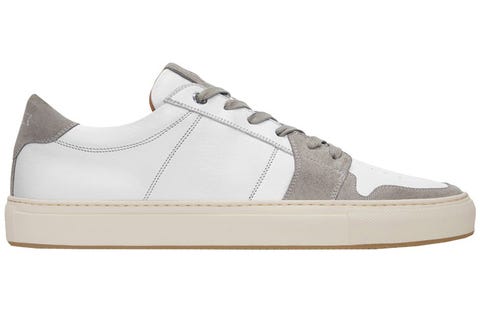 35 of 58
Greats The Court 'Blanco/Gray'
Greats made its name on high quality and reasonable prices. The Court isn't something entirely new to our eyes, but the blend of made-in-Italy bonafides and classic looks is a welcome one.
Original Release: 4/10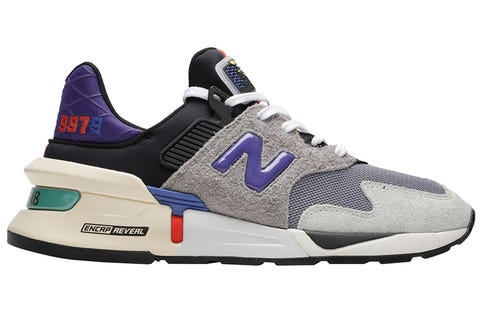 36 of 58
New Balance x Bodega 997S 'No Days Off'
New Balance's 997 Sport got a remix courtesy of Bodega in April of 2019, giving the new style some very attractive colorblocking and a little extra street cred.
Original Release: 4/6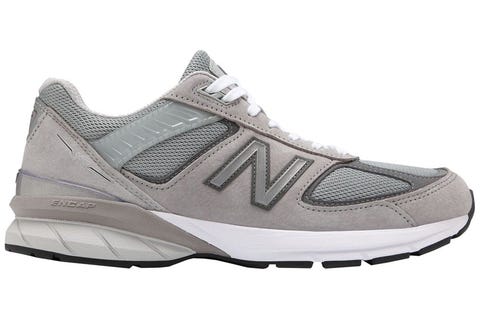 37 of 58
New Balance 990v5
The 990 series has enjoyed a hell of a resurgence lately, and that didn't go unnoticed by New Balance. The 990v5 takes the dad shoe vibe and adds a tweaked design and extra comfort, something we recently explored at the company's factory in Lawrence, Massachusetts.
Original Release: 4/6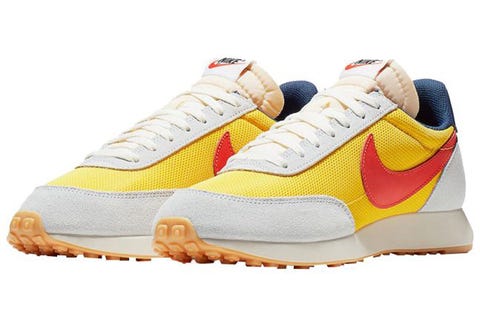 38 of 58
Nike Tailwind 'Team Orange/Tour Yellow'
The Tailwind originally released in 1979, and Nike is pushing the silhouette hard in 2019 for its 40th anniversary. We couldn't be happier about the development.
Original Release: 4/1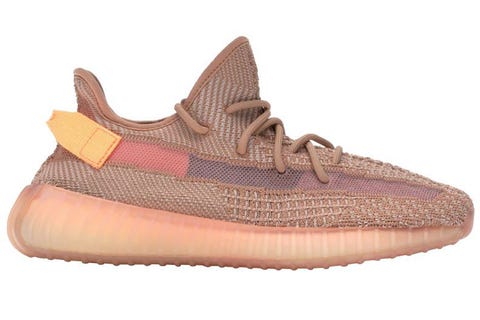 39 of 58
Adidas Yeezy Boost 350 V2 'Clay'
Adidas recently upped the production of a lot of the shoes in its collaborative line with Kanye West. While that seemed to introduce a bit of buyer fatigue at first, releases like the 350 V2 in "Clay" prove the partnership is still going strong.
Original Release: 3/30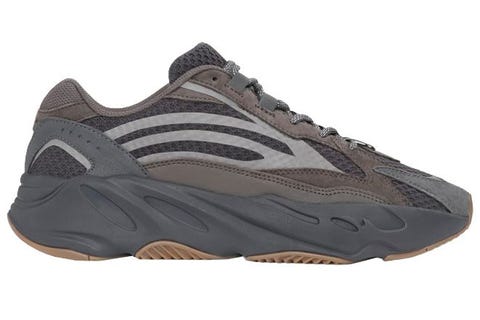 40 of 58
Adidas Yeezy Boost 700 V2 'Geode'
The 700 takes the chunky sneaker trend and brings in the signature Yeezy aesthetic and super-comfortable Boost courtesy of Adidas. It's not exactly new, but it still looks good.
Original Release: 3/23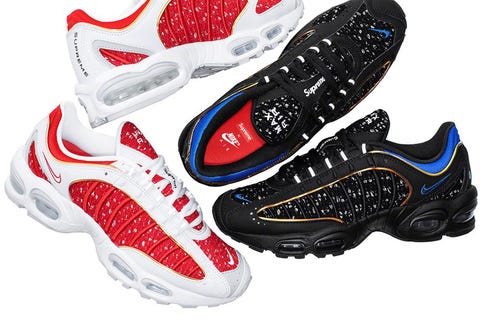 41 of 58
Nike x Supreme Air Tailwind 4
Supreme has been collaborating with Nike for a minute now, but there's still a lot of creative energy at play. The brands' collab on the Air Tailwind 4 introduces some color and texture to keep things fresh.
Original Release: 3/21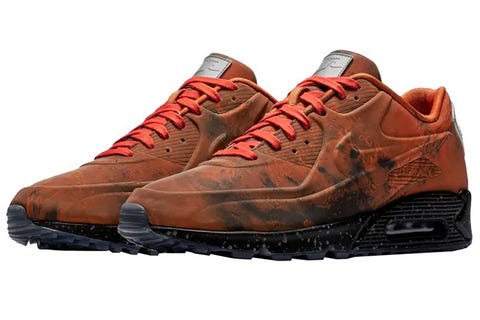 42 of 58
Nike Air Max 90 'Mars Landing'
The words "Nike" and "Mars" together tend to make most sneakerheads think of the brand's Mars Yard sneakers in collaboration with artist Tom Sachs. These AM90s are a good argument for thinking outside of that box.
Original Release: 3/16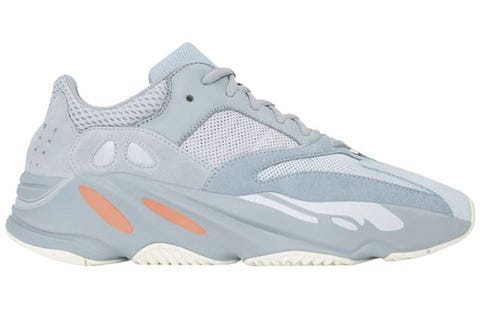 43 of 58
Aidas Yeezy Boost 700 'Inertia'
Usually, "Inertia" would be the exact thing you'd want to avoid in the sneaker world. But this version of the Yeezy Boost 700—all shades of gray with a subtle pop of color—is something we recommend gravitating towards.
Original Release: 3/9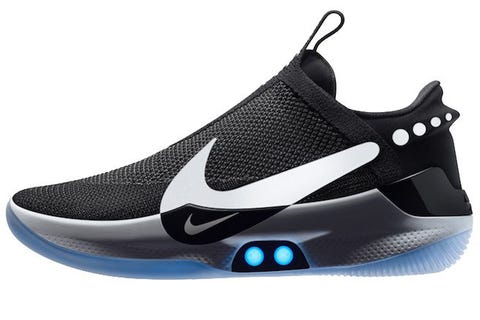 44 of 58
Nike BB Adapt
Power lacing first entered the general consciousness way back in 1989 thanks to the Tinker Hatfield-designed Nike Mag in Back to the Future Part II. Now, the tech is here in full force in the BB Adapt, a basketball-ready sneaker that's priced far more accessibly ($350) than last year's HyperAdapt ($720).
Original Release: 2/17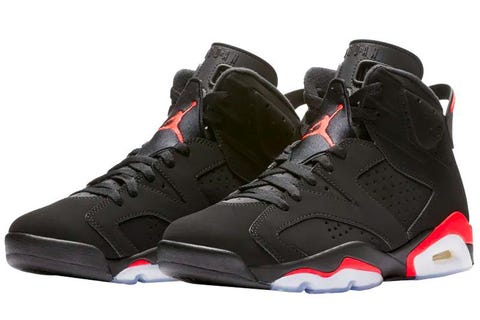 45 of 58
Air Jordan 6 'Infrared'
The blacked-out "Infrared" version of the Air Jordan 6 has been retroed a few times since its initial release in 1991, but that doesn't mean another one is anything other than exciting. It's a damn good colorway of an iconic game shoe.
Original Release: 2/16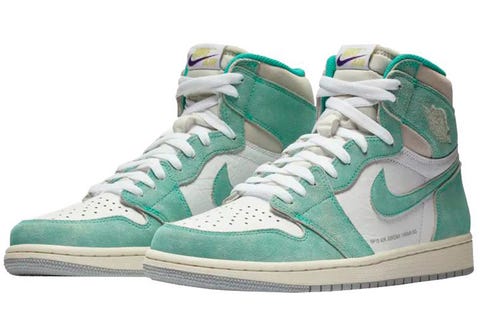 46 of 58
Air Jordan 1 'Turbo Green'
Jordan's been trying its hand at a slightly different approach to retro releases ever since its "The Ten" series with Off-White went downright stratospheric in terms of popularity. This "Turbo Green" version leans in with light distressing and even a little printed block lettering for good measure.
Original Release: 2/15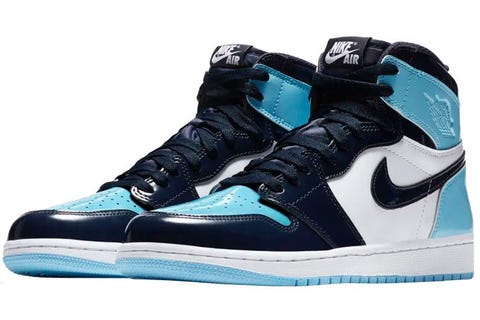 47 of 58
Air Jordan 1 'UNC Patent'
Inspired by the Bred Toe colorway but rendered in Carolina's shades of blue, this AJ1 high is an instant classic.
Original Release: 2/14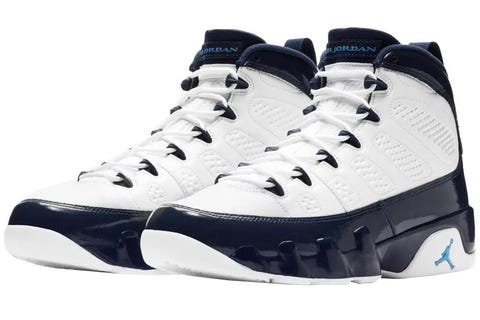 48 of 58
Air Jordan IX 'Midnight Navy'
The Air Jordan IX is never unwelcome, and this February's "Midnight Navy" colorway was no exception. The combination of dark navy patent and clean white leather feels sporty and fresh.
Original Release: 2/9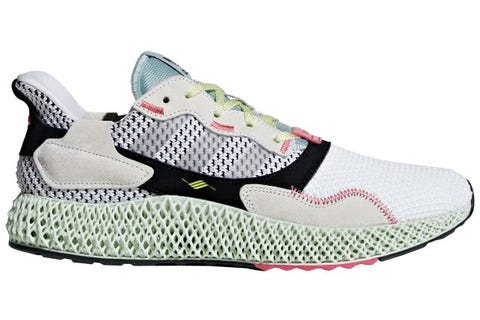 49 of 58
Adidas ZX 4000 4D
Adidas's 4D midsole is one of the more interesting bits of technology to make its way into the footwear world recently. Paired with a ZX 4000 upper and a few hits of color, and it feels even cooler.
Original Release: 2/9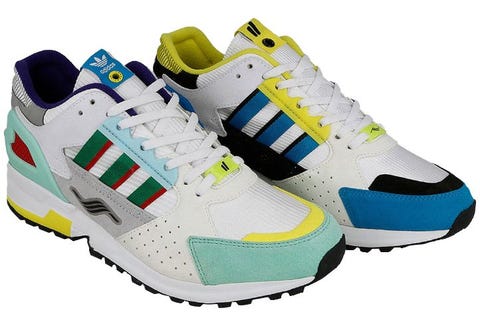 50 of 58
Adidas x Overkill ZX 10,000C 'I Can If I Want'
Adidas's Consortium program continues to deliver interesting team-ups, this time in the form of a partnership between the Three Stripes and Berlin-based sneaker shop Overkill. The asymmetrical "I Can If I Want" colorway is out-there in exactly the right way.
Original Release: 2/9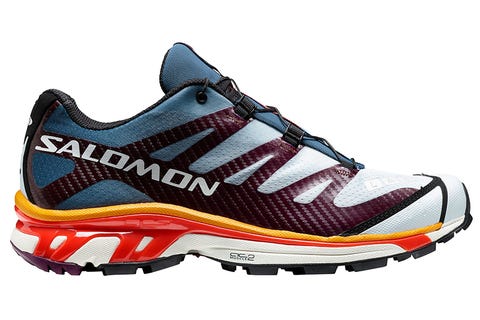 51 of 58
Salomon S/LAB XT-4 ADV
Salomon isn't a brand that invests a lot of (read: any) energy in the hype cycle. And that seems to be exactly why a certain breed of fashion and sneaker fans have latched on to it recently. Well, that, and the trail-inspired aesthetics and colorways that feel exactly right for right now.
Original Release: 2/8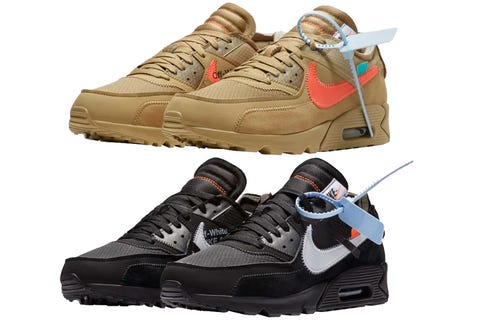 52 of 58
Nike x Off-White Air Max 90
Nike and Off-White's collaboration has been going for a while now, but the AM90 from this February is solid evidence that it hasn't lost steam. Designer Virgil Abloh's aesthetic fits perfectly with riffs on the classic style in both black and a rich tan called "Desert Ore."
Original Release: 2/7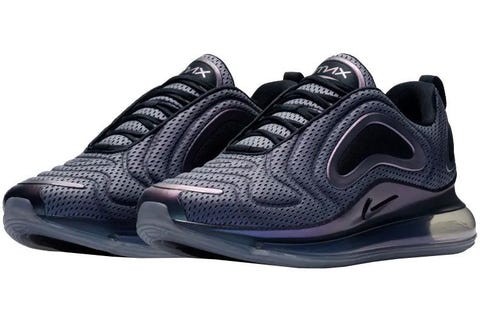 53 of 58
Nike Air Max 720 'Northern Lights Night'
The Air Max 720 is the latest entry in the Air Max family, sporting the biggest Air unit the Swoosh has ever produced. There have been a lot of colorways already, but the "Night" version of the "Northern Lights" release pack might just be the best.
Original Release: 2/1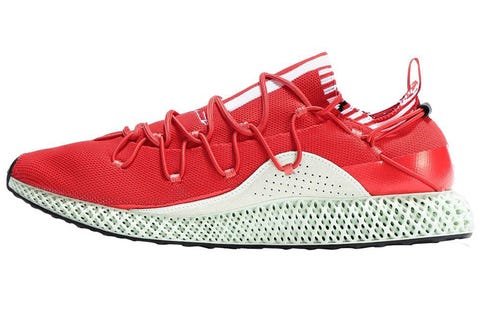 54 of 58
Y-3 Futurecraft Runner 4D II
Japanese designer Yohji Yamamoto brings his fashion-forward mentality to the Adidas 4D midsole with this version of the Y-3 runner. If the sole weren't enough, the function-meets-form lacing system should do it for you.
Original Release: 1/31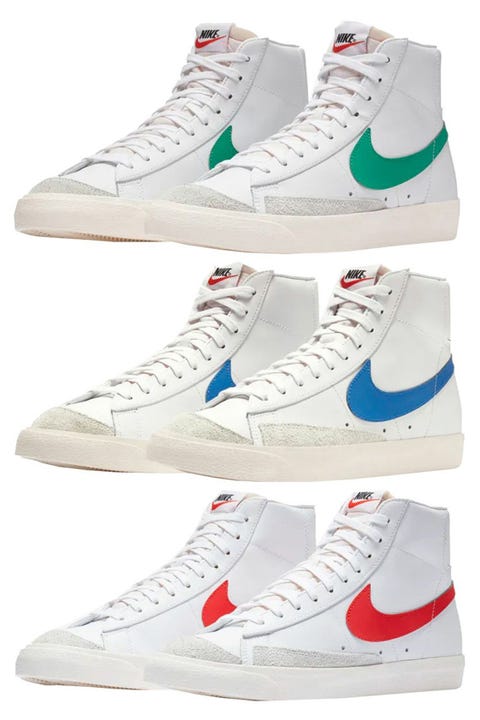 55 of 58
Nike Blazer Mid '77
2019 might just be the year of the Blazer Mid '77. The classic sneaker got reworked to be closer to the OG version this year, and the Swoosh is releasing colorway after colorway. Bring 'em on.
Original Release: 1/19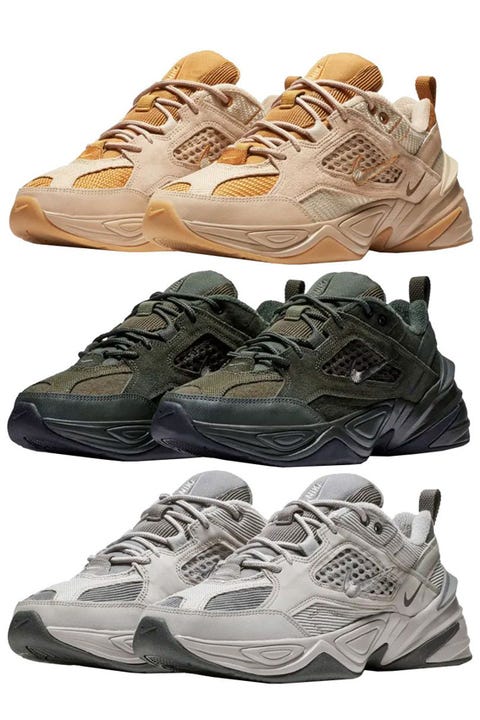 56 of 58
Nike M2K Tekno
The dad shoe trend is still going strong, and the Nike M2K Tekno is one very good reason to keep an open mind if you haven't jumped on board yet. The shoe takes its cues from the Air Monarch but brings in elements like a smaller swoosh and futuristic tooling to keep things interesting.
Original Release: 1/17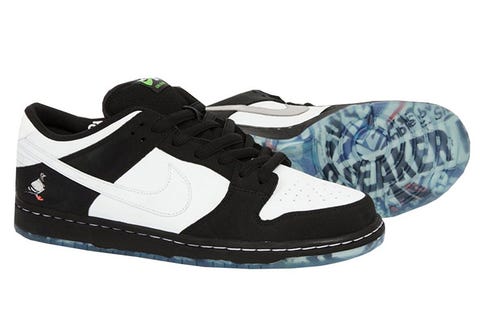 57 of 58
Nike x Staple Dunk Low 'Panda Pigeon'
It was nearly a decade and a half ago when Jeff Staple's "Pigeon" Dunk set off a riot in NYC, and this year's pair nods to that moment with graphics referring to the original incident that are visible through the clear midsole. Not a history buff? The uppers—clean, stylish, and easy to wear with anything—speak for themselves.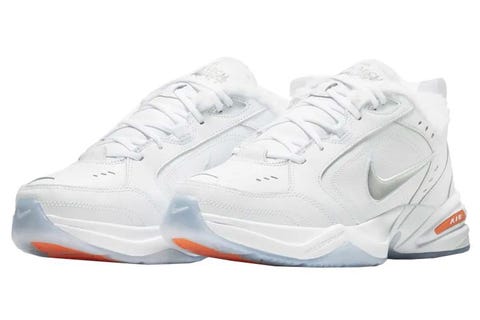 58 of 58
Nike Air Monarch IV 'Snow Day'
There's no single dad shoe that reigns supreme above all, but if you were compiling a ranking, the Air Monarch would no doubt hit near the top of the list. This version elevates things with an all-white upper and hits of orange. It's a whole lot cleaner than dad's garage.
Original Release: 1/3
SOURCE https://www.esquire.com/style/mens-fashion/g27435559/coolest-best-sneakers-2019/