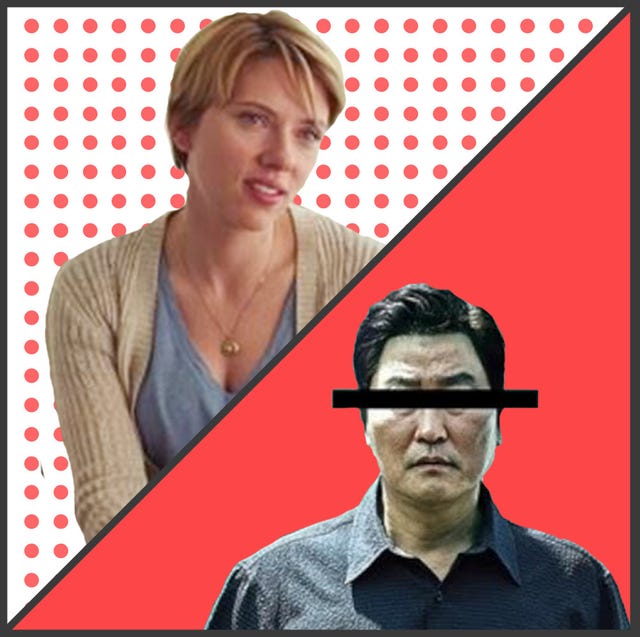 It's been a bountiful movie year, and this November may be the most rewarding month yet, thanks to the arrival of two incredible standouts: Martin Scorsese's mob epic The Irishman, which reunites the director with Robert De Niro and Joe Pesci (along with Al Pacino). There's Noah Baumbach's divorce drama Marriage Story, led by knockout lead turns from Adam Driver and Scarlett Johansson. Throw in the arrival of Pedro Almodóvar's excellent Pain and Glory, and you've got a trio of new releases not to be missed. There's more great stuff on the way before the calendar turns to 2020 (including an Oscar-worthy performance from…Adam Sandler?!). But for now, these are our picks for the best films of 2019.
45. Avengers: Endgame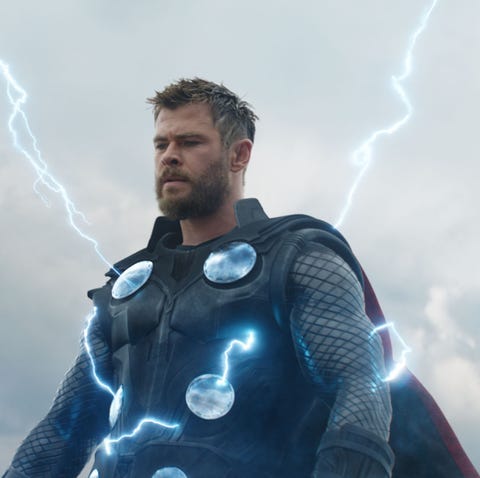 Marvel
Marvel saves the best for last – at least in terms of this phase of its sprawling cinematic universe – with Avengers: Endgame, the culmination of its decade-plus run of interconnected films, which offers not only surprising twists and electric superhero spectacle, but also routine chances for its illustrious cast to actually act. Helmed by Joe and Anthony Russo with the same juggling-multiple-strands craftsmanship they brought to their prior franchise installments, this latest saga finds Earth's Mightiest Heroes trying to undo big bad Thanos' (Josh Brolin) population-halving "Snapture." To discuss plot particulars would be to spoil some of the fun, although it's safe to say that its biggest kicks come from its self-referential fan-service nods, its ability to embellish every portentous moment with character-specific humor, and its satisfyingly cohesive conclusion. It's a superior piece of tentpole cinema, thanks in large part to A-game performances from stars Robert Downey Jr., Chris Hemsworth, Chris Evans, Scarlett Johansson and Mark Ruffalo.
44. Greta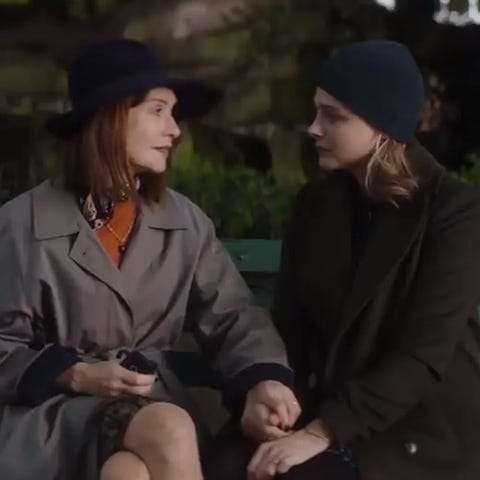 Focus Features
The kindness of strangers is exploited for demented purposes in Greta, Neil Jordan's playfully bonkers thriller about the trouble that befalls young Frances (Chloë Grace Moretz) after she finds a pocketbook on a New York subway and returns it to its owner, lonely Greta (Isabelle Huppert). Courtesy of that humane act, Frances –grieving the death of her beloved mom, as well as adjusting to her new Manhattan environs with the help of her wealthy roommate (Maika Monroe) – nets herself a surrogate mother figure. Their friendship, however, is eventually revealed to be predicted on a lie that turns the proceedings cockeyed. Jordan laces the film with erotic undercurrents but otherwise refuses to unduly embellish his material, instead content to keep it on steady ground even as it grows loopier. It's Huppert who truly elevates this story about twisted maternal obsessiveness, her Greta a cunning predator who uses sophistication and solitary sorrowfulness to mask more devious desires. Sad, elegant and extremely unhinged, she's a stalker to remember.
43. Toy Story 4
Woody (Tom Hanks), Buzz Lightyear (Tim Allen) and the rest of Pixar's animated toys are back in Toy Story 4, and though their return engagement may not be wholly necessary – considering 2011's ideal franchise-capping Toy Story 3 – it proves a charming, funny and deceptively weighty saga about independence, purpose and loyalty to both loved ones and, just as importantly, to one's self. Now the property of kindergarten-bound Bonnie, who's disinterested in playing with him, Woody finds meaning in life by protecting her newest plaything: Forky (Tony Hale), a makeshift weirdo crafted from trash. Their ensuing road-trip odyssey leads Woody to Bo Peep (Annie Potts), now enjoying her freedom as a "lost toy." Director Josh Cooley and writers Andrew Stanton and Stephany Folsom pepper their material with the usual barrage of sharp jokes, and the voice cast – including Keegan-Michael Key and Jordan Peele as a conjoined bunny and duck – is, as always, top-notch. Plus, it has Keanu Reeves stealing every scene he's in as Duke Caboom, the greatest Canadian motorcycle daredevil to ever grace the silver screen.
42. The Art of Self Defense
41. Her Smell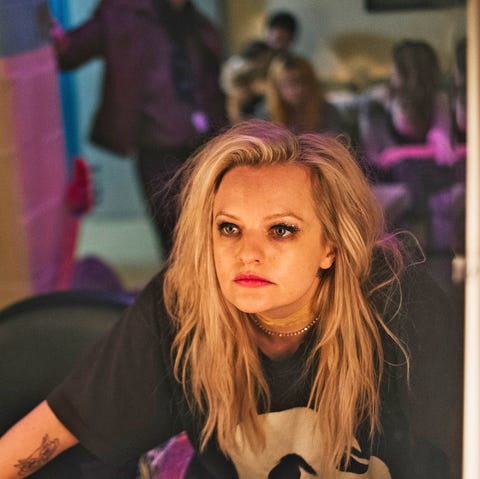 Donald Stahl
Elisabeth Moss gets her riot-grrrl on in Her Smell, delivering a tour-de-force performance of rampant egomania and self-destruction that galvanizes Alex Ross Perry's film. A mid-'90s Courtney Love type who resides in the center of a tornado of her own making, Moss' Becky Something leaves only chaos in her wake, much to the chagrin of her bandmates (Agyness Deyn and Gayle Rankin), ex (Dan Stevens), young daughter (Daisy Pugh-Weiss), mother (Virginia Madsen), collaborators/rivals (including Amber Heard and Cara Delevingne) and heroically loyal manager (Eric Stoltz). Split into five chapters that are interlaced with flashback home videos of happier early times, Perry's tale traces Becky's journey from apocalyptic drugged-out collapse to cautious resurrection, his handheld camera exactingly attuned to his protagonist's scattershot headspace. There's a vicarious thrill to watching this rocker spiral into the abyss, and then pull herself back out. While Moss doesn't hold back in depicting Becky's ugliness, she taps into the underlying hurt and vulnerability fueling her firestorm heart, peaking with a heart-rending single-take piano rendition of Bryan Adams' "Heaven."
40. The Dead Don't Die
Jim Jarmusch crafts an undeadpan comedy of apocalyptic proportions with The Dead Don't Die, a Night of the Living Dead riff played for bleak satire. In the "nice" town of Centerville, chief Cliff (Bill Murray) and officer Ronnie (Adam Driver) are forced to contend with a zombie outbreak caused by…well, maybe it's the polar fracking that's knocked the Earth off its axis, or the MAGA-type insanity peddled by local farmer Frank (Steve Buscemi), or simply good ol' fashioned American materialism. "This isn't going to end well," warns Ronnie at regular intervals, which he knows because he's read Jarmusch's script – just one of many instances in which the film indulges in goofy self-referentiality. A stellar cast that also includes Chloë Sevigny, Larry Fessenden, Danny Glover, Selena Gomez and Tom Waits (looking like a reject from Cats) go through their end-of-the-world motions with laid-back confusion and panic (they're barely animated themselves). Meanwhile, Jarmusch stages scenes of gruesomeness with a shrug-ish good humor that belies this simmering-with-anger critique of a world going, perhaps deservedly, to hell.
39. Fast Color
"If something's broken, it stays broken," intones Bo (Lorraine Toussaint) at the outset of Fast Color, which then proceeds to show that things – and people – can be mended through the power of family, love and connection to the past. Director Julia Hart's sophomore feature (co-written with Jordan Horowitz) is an unconventional superhero saga about Ruth (Gugu Mbatha-Raw), who in a near future decimated by lack of rain, flees government agent Bill (Christopher Denham) while trying to control her extraordinary abilities, which manifest themselves as seismic seizures. Ruth's flight takes her to her childhood home and her mom Bo (Lorraine Toussaint) and daughter Lila (Saniyya Sidney), both of whom have the capacity to wield swirly-colored constructive/deconstructive energy. The volatility of youth and the vitality of kinship (with present and former relatives) serve as sturdy thematic undercurrents for this low-key genre tale. Far more subdued than its summer-blockbuster brethren, it's a showcase for Hart's vibrant visuals and Mbatha-Raw's heartfelt performance as a woman finding strength not from independence but, instead, from bonds of blood.
38. Skin
Jamie Bell gives the performance of his career as Bryon "Babs" Widner, a face-tattooed neo-Nazi contending with his chosen white-power path, in Oscar-winning director Guy Nattiv's based-on-real-events tale of the origins of hate – and the potential means of reversing it. Indoctrinated from a young age by his surrogate-parent gang leaders (Bill Camp and Vera Farmiga), Widner preaches xenophobia and division until he meets single mother Julie (Danielle Macdonald). Her love, and the promise of a healthier sort of family, compels him to reconsider his life choices. A portrait of the arduousness of transformation and redemption, Skin shares direct, unsettling ties to our current geopolitical moment. Affording no easy solutions to the problems it presents, it's a micro examination of a macro crisis, made transfixing by Bell's warts-and-all embodiment of intolerance – a learned ethos rooted in issues of anger, insecurity and isolation, and correctable (if at all) only through a combination of pain and sacrifice.
37. Dolemite is My Name
Eddie Murphy regains his superstar mojo in Dolemite is My Name, a raucous biopic fashioned in an Ed Wood and The Disaster Artist mold (from the writers of the former) about Rudy Ray Moore, a clownish wannabe-entertainer who hit it big by playing the profanely rhyming, kung-fu-fighting, ladies-bedding Dolemite. It's been decades since Murphy has been this hilariously energized, his giant smile and brash talk elevating this underdog-makes-good effort from Craig Brewer (Hustle & Flow), which traces Moore's transformative creation of both his famous alter ego, as well as the family of friends and collaborators who helped him realize his stage and screen dreams. Decked out in a variety of swanky colorful suits (replete with matching hats), and wielding a cane that aids his strut, Murphy turns Moore's story into his own declarative statement of peerless comedic bravado – and he needs every ounce of that charisma to keep the spotlight on himself, because as Moore's director/co-star, a bug-eyed, flamboyantly mannered Wesley Snipes almost steals the film from him.
36. Tigers Are Not Afraid
With Tigers Are Not Afraid, writer/director Issa López conjures a modern fairy tale rooted in traumas of both a personal and political nature. In a Mexican city rendered a ghost town by violent drug gangs, young Estrella (Paola Lara) strikes up a prickly alliance with a group of orphaned boys – led by Shine (Juan Ramón López) – after her mother goes missing. Convinced the three chalk pieces she received from her teacher grant her magical wishes, Estrella tries to survive her harrowing new circumstances on the streets, which are further complicated by two adult thugs intent on reclaiming their stolen property from Shine. Pitched in fantastical Grimms terms (with a dash of Guillermo Del Toro), López's allegorical feature doesn't shy away from the brutal realities of its scenario, often to heartrending effect. It casts a spell through malevolent horror imagery as well as its moving portrait of kids banding together to form a makeshift clan – and, in the process, to courageously face a world intent on destroying them, physically and psychically, at every turn.
35. One Cut of the Dead
Shin'ichirô Ueda's cult classic-in-the-making is about a couple fending off a zombie plague. Until, that is, it reveals itself to be about a crew of filmmakers making an undead horror movie. And then, it becomes a story about how those artists are in fact overrun by a real zombie threat. Which – believe it or not – isn't the final twist in One Cut of the Dead, a rollicking comedy that keeps viewers on their toes by constantly divulging new layers of reality. Kicking off with a bravura 37-minute single take sequence that charts its characters' attempts to navigate their monstrous ordeal – all as their director, Higurashi (Takayuki Hamatsu), continues to roll cameras – the film eventually delivers a meta bombshell that totally reconfigures one's conception of the action at hand. More importantly, that revelation repositions the material's focus onto the art of moviemaking itself, and the myriad headaches – caused by temperamental actors, budget constraints and unforeseen delays and obstacles – common to the process. Think of it as a ghoulish Day for Night.
34. American Factory
The rapidly changing global manufacturing landscape is examined through the lens of an Ohio auto-glass plant founded by the Chinese and staffed with men and women from both countries in American Factory. The first release to emerge from the Obamas' production deal with Netflix, Julia Reichert and Steve Bognar's eye-opening documentary begins on a high, as American and Chinese workers show equal enthusiasm for the new venture, which promises to bring opportunity (and, hopefully, prosperity) to a community hit hard by a prior GM plant's closing. Various culture-clash issues, however, soon complicate the endeavor's chances for success, leading to tensions on both sides and, ultimately, a battle over workers' desire to unionize, which is opposed by their foreign-born bosses. Plumbing American and Chinese expectations and attitudes regarding labor, as well as the compatibility of the two countries' ways of doing things, it's an intimate on-the-ground look at 21st-century globalization in practice.
33. The Burial of Kojo
Musician-filmmaker Blitz Bazawule's feature debut is a spellbinding storybook fable about a young Ghanaian girl named Esi (Cynthia Dankwa) whose father Kojo (Joseph Otsiman) is convinced by his back-in-the-picture brother Kwabena (Kobina Amissah-Sam) to move their family from a village on stilts in the middle of a lake to the big city, where greater economic prosperity supposedly awaits them. As conveyed by Esi's encounter with an old blind man – who says he's from an upside-down purgatory, and tells her to protect a bird from an evil crow – and the sibling rivalry-centric soap opera that Esi watches with her grandmother (Joyce Anima Misa Amoah), The Burial of Kojo is a story about reunion, loss and reconciliation that exists somewhere between reality and fantasy. Bazawule's slow-motion imagery is mesmerizing, highlighted by the inverted sight of Esi being chased by a humanoid raven astride a horse, and a closing shot of an man with an IV stand meeting a long-lost love in the middle of architectural ruins. There's poignant poetry in this haunting fairy tale, and magic as well.
32. It Chapter Two
Now adults played by the likes of James McAvoy, Jessica Chastain and Bill Hader, The Losers Club returns to Derry, Maine to again confront unspeakable evil in It: Chapter 2, Andres Muschietti's sprawling, character-driven companion piece to his 2017 blockbuster. As before, that enclave's malevolence is personified by Pennywise the Dancing Clown (Bill Skarsgård), an unholy sewer-dwelling circus freak who feasts on fear, and whose hunger for revenge powers the film's finest set pieces, including a showdown in a hall of mirrors. What truly elevates Muschietti's sequel, however, is its focus on the efforts of its now-grown protagonists to conquer the anxieties, doubts and regrets that, following their childhood ordeal, have come to define them. Segueing between time periods, it's a spookshow study of the grip that the past holds over the present, the vital – and often corrosive – means by which memories affect our worldview and sense of self, and a touching ode to the power of togetherness. Paired with its predecessor, it's one of the finest Stephen King adaptations ever.
31. The Great Hack
Cambridge Analytica stole the data of 87 million Facebook users and then utilized it to target swing voters with political propaganda on behalf of clients like Brexit and the 2016 Trump campaign. And yet somehow, that villainous firm isn't even the most vile player in The Great Hack, since that goes to Facebook, which not only collaborated with Cambridge Analytica (and failed to control it), but also allowed itself to become the preeminent platform for wide-scale, democracy-undermining disinformation operations. With both dynamism and comprehensiveness, Karim Amer and Jehane Noujaim's infuriating documentary details the Cambridge Analytica scandal via the work of reporters and whisteblowers intent on exposing the company's function as a tool of right-wing extremists both in America and abroad. In doing so, it reveals a terrifying digital new world order where data is the most valuable commodity, as well as the key to conducting psychological warfare on a heretofore unheard-of scale. It's the horror film of the year.
30. Plus One
Weddings can be a torturous drag for singles, so longtime friends Alice (Maya Erskine) and Ben (Jack Quaid) decide to spend their overbooked nuptials season tag-teaming events as platonic dates. Jeff Chan and Andrew Rhymer's romantic comedy is, per formula, bound to have its seemingly opposite protagonists discover their attraction for one another, yet predictability is of no concern when the amorous action is as consistently funny and charming as it is in this jaunty indie. Be it stumbling their way through one ceremony and party after another, or embarking on their own unlikely relationship while dealing with their troublesome parents, Alice and Ben prove to be excellent company, she using booze and a sharp tongue to cope with her loneliness, and he clinging to high standards as a way to avoid commitment and stave off potential abandonment. Erskine in particular is a revelation – a charismatically uninhibited riot, she seems destined for Hollywood's A-list.
29. Crawl
As mean, and quite a bit leaner, than its voracious animals, Crawl is an example of B-moviemaking done right. During an apocalyptic Florida hurricane, struggling but talented collegiate swimmer Haley (Kaya Scodelario) goes in search of her MIA father Dave (Barry Pepper), whom she finds in the basement of their old home, wounded and trapped by a swarm of alligators. Their confined setting is a veritable labyrinth that –as with CGI-ified imagery of storm-ravaged communities – director Alexandre Aja imbues with underlying allegorical heft. That only bolsters his suspenseful storytelling, characterized by formidable set pieces – involving perilous aquatic races against, and bone-crunching tussles with, the wild beasts – that further reflect Haley and Dave's strained father-daughter dynamics. A trip to the gators' egg-laying nursery is a particular highlight, although singling out one of the film's showstoppers seems almost unfair. From start to finish, Crawl is the sort of edge-of-your-seat, cringing-with-delight thriller that Hollywood rarely makes these days.
28. Ad Astra
For all its operatic echoes of 2001, Apocalypse Now and The Tree of Life, James Gray's Ad Astra is a distinctive vision of the grand abyss lying beyond our planet, as well as an affecting investigation into man's longing for communion. In the near future, Major Roy McBride (Brad Pitt) is sent on a top-secret mission to Neptune, where his commanders believe his renowned father Clifford (Tommy Lee Jones) – missing for decades on a quest to find intelligent E.T. life– is alive, and causing intergalactic pulses that threaten Earth. His quest is fraught with literal danger and, also, emotional, psychological and spiritual peril, as Roy searches the heavens for the indifferent father that abandoned him. Brought to life by Pitt with a wellspring of bubbling-beneath-the-surface pain, yearning and hope, Roy is a man whose steady pulse rate is emblematic of his sorrowful, walled-off remoteness. Led by his own interior-thought narration, Roy's saga is at once awe-inspiring and poignant, intimate and majestic.
27. Tell Me Who I Am
If our memories aren't truly our own, how do we know who we are? Such was the profound existential crisis faced by 18-year-old Alex Lewis when, in 1982, he was injured in a car accident, lapsed into a coma, and awoke to find that he recognized no one save for his twin brother Marcus. That afforded Marcus an opportunity to rebuild his sibling with stories about their past – some of which omitted crucial events from their horrendous childhood. With acute empathy and formal eloquence, director Ed Perkins investigates this shocking tale from the perspectives of both brothers, whose bond was forged by love and trust, and torn asunder by deception and betrayal. What emerges is a complex story about truth, lies and silence, the last of which is the real evil force in both Alex and Marcus' life – concealing the horrors committed against them as kids, and tearing them apart as adults, at least until Perkins' documentary stages a face-to-face sit-down rife with bitterness, regret and understanding.
26. The Last Black Man in San Francisco
The story of two friends who, like their hometown, are in a state of uneasy transition, The Last Black Man in San Francisco affords narrative and aesthetic surprises around every corner. For skateboarding Jimmie (Jimmie Fails), nothing would be finer than reclaiming his childhood residence, a gorgeous Victorian in the Fillmore District that he proudly proclaims was built by his grandfather. Jimmie's awkward aspiring-playwright pal Mont (Jonathan Majors) goes along with his plan to move into the abode once the current tenants are forced to leave (over an estate dispute) – an act of squatting that doubles as an attempt at reclaiming a cherished past. In his debut feature, director Joe Talbot populates Jimmie and Mont's story with childhood friends and estranged relatives whose presence, or absence, speaks to the story's underlying strains of cultural-racial-familial disaffection, troubled identity, and longing for home. With a lyrical touch that invigorates his often-droll action, Talbot pays bittersweet tribute to San Francisco and the magic of true friendship.
25. The Mountain
A hallucinatory nightmare of loneliness, alienation and Oedipal desire, Rick Alverson's The Mountain boasts shades of Stanley Kubrick and Yorgos Lanthimos even as it carves out its own peculiar, penetrating identity. Set free from the company of his remote skating-instructor father (Udo Kier), miserable Andy (Tye Sheridan) – desperate to reconnect with his institutionalized mother – sets out on a trip with Dr. Wallace Fiennes (Jeff Goldblum), who wants Andy to photograph the psychiatric patients he treats with his unique electroshock-and-lobotomy procedures. Set during the 1950s, theirs is an expedition marked by disintegration and yearning for escape and deliverance, and it ultimately leads to the home of a French healer (Denis Levant) who wants Fiennes to perform his technique on his daughter Susan (Hannah Gross), with whom Andy develops a connected-by-disconnection relationship. Aided by unnervingly stoic, expressive turns from his leads, Alverson dramatizes this off-kilter madness via compositions of figures trapped in cramped, confining architectural spaces, set to ominous audio tones and blowing wind. In this surrealist landscape, humor and horror are almost indistinguishable, epitomized by Levant's exceptional dance of the deranged.
24. High Life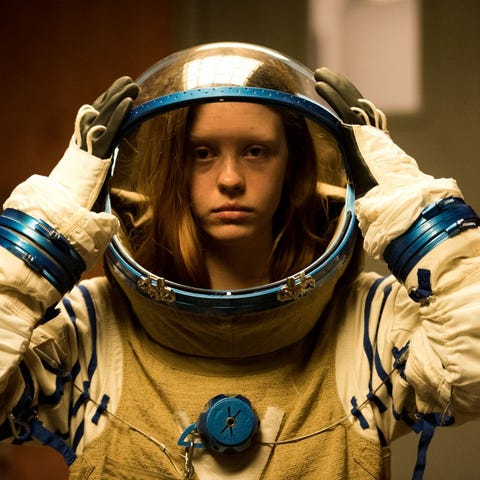 A24
Fertility and desolation, creation and destruction, isolation and togetherness all intermingle in hypnotic fashion in High Life, Claire Denis' sci-fi reverie. Indebted, spiritually if not narratively, to Andrei Tarkovsky's Solaris, Denis' story concerns a space ship on which a doctor (Juliette Binoche) attempts to successfully conceive children through experiments with convicts – including Monte (Robert Pattinson), who's introduced caring for an infant, alone, in what's soon exposed as a flash-forward – as they all hurtle toward a black hole whose energy they seek to harness. Barren spaces abound, and the French auteur infuses her material with a sense of ominous hollowness, born from longings – for purpose, conception, and reinvention – that remain unfulfilled. No clear-cut answers await those who make it to the end of this alluring voyage, only a mood of enigmatic ennui, bursts of sexualized violence and hunger (the latter coming via Binoche's mind-bending visit to a room known as the "f--k box"), a superbly cagey Pattinson turn, and a finale of cautious optimism.
23. The Edge of Democracy
A vision of Brazil's recent past that resonates as a chilling and heartbreaking warning for the rest of today's world – including Trumpian America – The Edge of Democracy recounts the political upheaval that led to the impeachment of elected president Dilma Rousseff, the imprisonment (on corruption charges) of former president Luiz Inácio Lula da Silva, and the rise of new president Jair Bolsonaro and his right-wing administration. Petra Costa's harrowing and dismayingly timely Netflix documentary presents a country torn apart at the seams, split between citizens in favor of staying the thirty-year democratic course, and those eager to take a turn back into dictatorial extremism. Costa's connection to her homeland's bifurcated history (via her revolutionary parents and wealthy grandparents) lends additional urgency to her survey of this tumultuous period of disintegration, in which corporate greed and power turn out to be more influential than the rule of law – or the will of the people. The only ones who won't see it as a cautionary tale are those who refuse to look.
22. John Wick: Chapter 3 – Parabellum
John Wick dispatches adversaries in a frantic knife-throwing fight, on horseback through the streets of New York City, and with a library book (!) in Chad Stahelski's latest go-round – and that all happens in the first twenty minutes. No franchise dispenses more crazily choreographed violence than John Wick, in which savagery is carried out with both concussive force and dancer-like grace. In Parabellum, Wick teams up with Laurence Fishburne, Ian McShane, and Halle Berry (and her two crotch-fixated German shepherds) in order to stave off death at the hands of the world's assassins, all of whom seek a bounty on his head. Improving on Chapter 2, director Stahelski stages his set pieces as exercises in vicious physicality. Through it all, Keanu Reeves strikes a dashing pose as the increasingly harried (and bloodied) Wick, his trademark designer suits and walk-softly-and-carry-a-big-gun demeanor once again employed to expert effect in a series that continues, like Reeves himself, to improve with age.
21. Birds of Passage
Capitalist modernity, taking the form of the marijuana trade, corrupts a local Colombian culture in Birds of Passage, an ethnographically rich crime drama from Embrace of the Serpent director Ciro Guerra. Split into five sections spanning 1960-1980, and set in the country's northern La Guajira region, Guerra's film (co-directed by his wife and producing partner Cristina Gallego) details the disintegration of a Wayuu community thanks to enterprising Rapayet (José Acosta), who marries the daughter of imposing matriarch Ursula (Carmiña Martinez) and transforms everyone's fortunes by smuggling weed procured from relatives. The tension between tradition and progress is almost as taught as that between mercy and brutality, as the clan's rise to drug-running prominence comes at a catastrophic cost. Interjecting their verité tale with enveloping dreaminess, Guerra and Gallego capture the insidious ways that greed spreads like a poison, cutting people off from their heritage, their morality, and ultimately, from their loved ones and themselves.
20. Shadow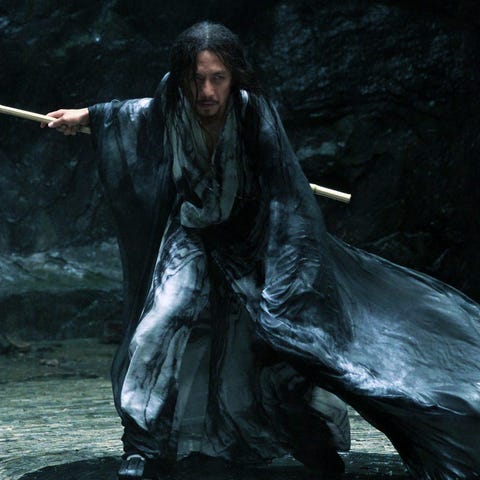 Well Go USA
As evidenced by his Hero and House of Flying Daggers, Zhang Yimou is no stranger to dazzling martial-arts action. Still, Shadow is an aesthetic wonder, drenched in ash-gray hues and wielding serpentine cinematography to enrich its tale about a military commander's "shadow" (Deng Chao) – i.e. double – who, when not falling in love with his superior's wife (Sun Li), attempts to incite a war with a rival kingdom against the wishes of his self-serving king (Zheng Kai). Epitomized by the yin-yang symbol on which many battles are fought, dualities (masculine and feminine, light and dark, real and imitation, mortal and ghostly) are rampant throughout. Romance and court intrigue are also part of this stunning package, yet far more exhilarating than the stock story is the director's precisely choreographed wuxia combat, highlighted by Zhang's signature slow-mo shot – in which his camera trails behind a running fighter's blade as it scrapes against the ground, casting water skyward – and often carried out with the most badass umbrellas ever committed to film.
19. Ash Is Purest White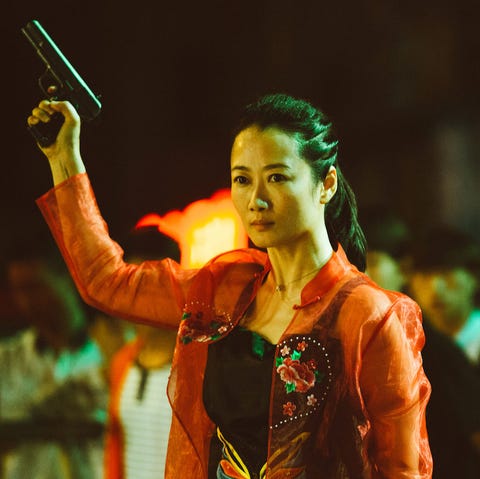 Cohen Media Group
Love is fractured and the past is torn asunder in Ash is Purest White, another remarkable saga from Chinese auteur Jia Zhang-ke about individuals trying to plot a course through a rapidly developing nation. Employing expansive and boxy aspect ratios to denote different time periods, and embellishing his action with pop songs (including the theme from John Woo's "The Killer"), Jia dramatizes the romance between gangster Bin (Liao Fan) and girlfriend Qiao (Jia's wife and favorite leading lady, Zhao Tao), which abruptly ends after the latter is imprisoned for using a firearm to save her beau during an attack. Upon release, Qiao strives to acclimate herself to a modernizing world that doesn't care about the collateral damage left in progress' wake. From young upstarts looking to take Bin's position, to work along the Three Gorges (which will ultimately submerge towns), change is afoot. Divided into three sections, it's an epic vision of sacrifice and tenacity in a tumultuous age, led by Zhao's commanding performance as a woman whose cunning resourcefulness is matched by her devotion.
18. Diane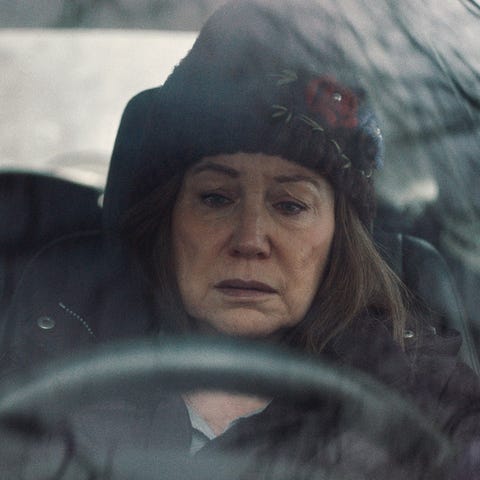 IFC Films
Diane (Mary Kay Place) is always looking out for others, be they her good friends, her older relatives, or her son Brian (Jake Lacy), who can't get his drug habit under control. Kent Jones' Diane is a character study of this solitary Massachusetts woman, filled with telling details and sharply observed moments that speak to her Christian altruism, her tough love, and the secrets that continue to torment (and, perhaps, drive) her. Revelation, resurrection, abandonment and mourning all factor into her haunting story. In his debut, the critic-turned-writer/director cuts efficiently, so that no gesture or expression is wasted, and yet he also tends to linger – on a notepad's to-do list, or a face trying to hide the reality behind a recent utterance – in order to evoke greater unspoken truths. Buoyed by a script attuned to the sorrowful rhythms of older age (and New England), Jones' film rests on the shoulders of Place's stellar, lived-in performance as Diane, a fallible woman whose selflessness is colored by anger and regret.
17. Parasite
Mixing the class commentary of Snowpiercer with the family dynamics of The Host, Bong Joon-ho takes a scalpel to inequity with Parasite, his scathing drama about a lower-class clan that endeavors to pull itself up from the figurative and literal basement. Preying upon the naiveté of corporate bigwig Mr. Park's (Sun-kyun Lee) wife Yeon-kyo (Yeo-jeong Jo), teenage Ki-woo (Woo-sik Choi) cons his way into a job in their ritzy household as an English tutor for their daughter. Gigs soon follow for his sister Ki-jung (So-dam Park) as an art teacher, his dad Ki-taek (Kang-ho Song) as a driver, and his mom Chung-sook (Hye-jin Jang) as a housekeeper. Acquiring those positions, alas, necessitates ruining their predecessors, and holding onto them entails even nastier business – as well as enduring the petty cruelty, condescension and selfishness of their employers. Awash in action seen through glass, and compositions that descend from high to low positions, Bong's aesthetics evoke the social and economic divisions governing modern South Korea, and enhance his snapshot of the kill-or-be-killed ruthlessness that many are driven to out of need, want and burning resentment.
16. Pain and Glory
"I hate autofiction," says the elderly mother of filmmaker Salvador Mallo (Antonio Banderas), a sly nod to the rooted-in-reality nature of writer/director Pedro Almodóvar's somber, yet joyfully cathartic, latest. Stymied by health problems and depression, which have brought about creative inertia, Mallo uses a retro screening of a former triumph to mend fences with estranged leading man Alberto (Asier Etxeandia), who soon introduces him to migraine-relieving heroin. That's merely the first of many multi-layered ways in which Mallo attempts to reconnect with his past, as flashbacks to his youth alongside his mom (Penélope Cruz), and an encounter with an old flame (Leonardo Sbaraglia), also allow him to rediscover his love of cinema, family and self. Though his big, tousled graying hair recalls Almodóvar's own coiffure, Banderas' performance is no act of mimicry; radiating quiet, soulful anguish, his Mallo is a man untethered to the things that made him who he is – a crisis which he overcomes only in the film's unforgettable last, painterly composition.
15. Long Day's Journey Into Night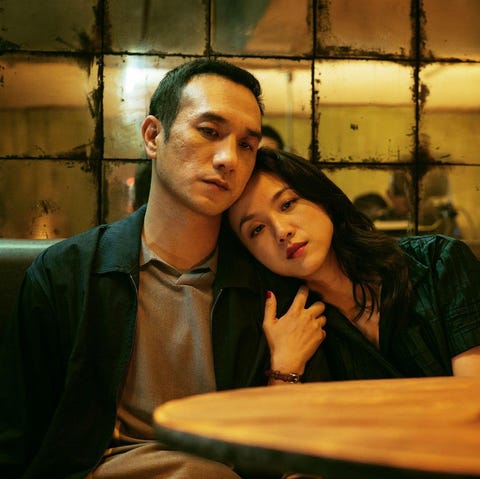 Kino Lorber
Kaili Blues director Bi Gan concludes his sophomore feature with a 56-minute single-take sequence shot in 3D, his camera trailing alongside (and above, and behind) his protagonist, Luo Hongwu (Huang Jue), as he navigates a rural dreamscape that he's travelled to while sitting in a movie theater. The past, memories, and the cinema are inextricably intertwined in Long Day's Journey Into Night, whose story – about Luo's return to his Kaili hometown, where he remembers an old comrade and looks for former love Wan Qiwen (Tang Wei) – comingles today and yesterday in poignant fashion. Motifs involving broken timepieces, dripping water, starry skies, flight and fire all pepper Gan's latest, which is bookended by telling images of rotating colored ceiling lights and a room spinning around blissful lovers. As beguiling as it is gorgeous, his oblique film charts Luo's experience in a world at once real and imagined, along the way spying him in, and through, numerous mirrors and glass filters until he resembles a displaced ghost in search of home.
14. Once Upon a Time in…Hollywood
Quentin Tarantino goes back to the 1969 Tinseltown of his dreams with Once Upon a Time in…Hollywood, a reverie for that bygone moment when the culture and counterculture collided. On the downside of this equation is faded TV Western star Rick Dalton (Leonardo Dicaprio) and his loyal stuntman Cliff Booth (Brad Pitt), whose navigation of this rapidly changing environment crisscrosses with the ascendency of Rick's neighbor Sharon Tate (Margot Robbie) and her husband Roman Polanski (Rafał Zawierucha) – all as the Manson Family assumes its soon-to-be destructive position on their horizon. Tarantino lavishes his period milieu, and the mainstream movies and television of the era, with sun-dappled neon-colored love. His is a conservative celebration of the old at the very moment that the new took over (not to mention a wish for a fusion of the two), and an air of wistfulness – and desire to fight obsolescence – permeates the action. Led by DiCaprio and Pitt's superb turns as artists trying to stay afloat in a radically transforming industry (and America), it's a revisionist-history fantasy drenched in nostalgia, ecstasy, yearning and blood.
13. Apollo 11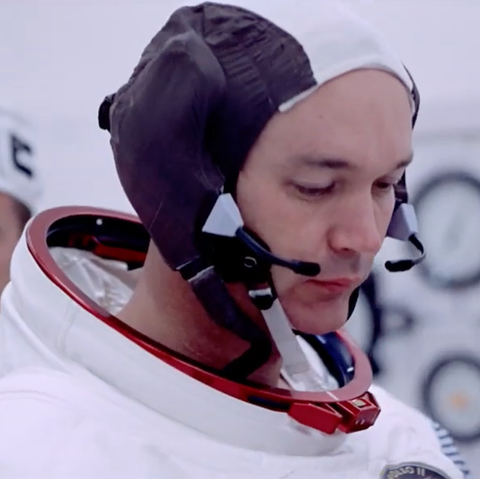 NEON
The term "awe-inspiring" may be overused in critical circles, but it roundly applies to Todd Douglas Miller's Apollo 11, a definitive documentary about the United States' first trip to the moon. Premiering on the 50th anniversary of that momentous event, it utilizes a treasure trove of recently discovered 65mm footage and audio recordings to afford an up-close-and-personal view of the preparations for launch, the men and women toiling behind the scenes to ensure its safety, the crowds gathering to witness history, and the outer-space flight itself, shot by cameras accompanying (and sometimes manned by) Neil Armstrong, Buzz Aldrin and Michael Collins. That imagery boasts breathtaking scale, conveying the literal and figurative enormity of everything involved with the Apollo 11 – making it ideally suited for IMAX. Nonetheless, in any format, it's a curatorial effort of thrilling enormity, presenting this pioneering triumph as the byproduct of myriad individuals, immense ingenuity, and the colossal bravery of three men who dared to venture to the stars.
12. The Souvenir
Young love is a vehicle for self-definition in Joanna Hogg's The Souvenir, the writer/director's finely calibrated coming-of-of age drama. Aspiring London filmmaker Julie (Honor Swinton Byrne) falls for older, cultured Anthony (Tom Burke), who has a habit of making every compliment sound self-serving. Hogg depicts their affair with little concern for superfluous in-between stuff, cutting pointedly to the couple's most crucial incidents together, and in the process she strikes an assured balance between realism and impressionism. A semi-clandestine drug habit eventually becomes a complicating factor for the duo, but the real heart of this enthralling film is Julie herself, whose interior state is brought to vivid life by the director's intimate, aesthetically diverse approach. Awash in talk about movies and moviemaking, Hogg's feature is elevated by Byrne's star-making turn as a young woman caught between genuine love, her recognition that her relationship is perhaps doomed to fail, and her desire to find her voice – personally and artistically – on her own.
11. An Elephant Sitting Still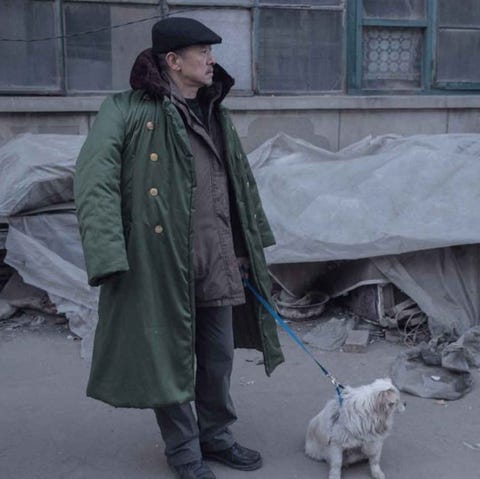 Kim Stim
Tragedy comes from rejection, resentment, alienation, rage and sorrow in An Elephant Sitting Still, an intimate epic about Chinese citizens who view themselves as powerless and worthless. The debut feature from Hu Bo (who died shortly after production was completed) concerns a collection of individuals whose lives intersect during the course of a single day: Wei Bu (Peng Yuchang), an angry high-school student who accidentally commits a catastrophic crime; Yu Cheng (Zhang Yu), the guilt-stricken gangster brother of Wei Bu's victim; Huang Ling (Wang Yuwen), a classmate of Wei Bu's who's involved with her vice dean; and Wang Jin (Liu Congxi), a grandfather being coerced by his son and daughter-in-law to move into a nursing home. Hu shoots each protracted scene in long, unbroken takes, habitually foregrounding his subjects in shallow focus while staging key action in the fuzzy background. At nearly four hours, the film imparts an overpowering sense of its characters' despair, and the misfortune that befalls them whether they remain alone or try to engage with others – a despondency only amplified by its empathy.
10. Gloria Bell
Growing old isn't easy for Gloria Bell (Julianne Moore), the single heroine of Sebastián Lelio's outstanding English-language remake of his 2013 Chilean drama. Between friends being laid off, concerns about retirement, and adult children navigating their own troubled romantic paths, Gloria makes her way through middle age with a brave face, finding temporary solace on the dance floor and, for a time, in the arms of Arnold (a magnificent John Turturro), a recent divorcé struggling to break free from his ex-wife and two needy daughters. With a light tough that allows for instances of escapist lyricism (none better than recurring shots of Gloria spinning amidst swirling colors), Lelio fashions a tender, incisive, heartbreaking ode to the myriad complications of adulthood, where efforts to move forward are burdened by regrets, entanglements and longing for connection. Led by a tour-de-force turn by Moore, whose expressive work is some of her finest to date, it's a small-scale story with a profound understanding of life as it's actually lived, and felt.
9. Monos
High in the mountains of an unidentified Latin American country, a band of child soldiers (with names like Rambo, Wolf and Boom Boom) partake in intense physical training and unique aggro rituals – such as lashing a member for their birthday – while guarding their hostage, an American doctor (Julianne Nicholson). A hazy fable that feels caught between Apocalypse Now and Lord of the Flies, Alejandro Landes' Monos immerses itself in its haunting milieu via images of silhouetted figures set against enormous, encompassing clouds, and sequences of hostility, love and madness. Following a tragic turn of events involving a milk cow they had on loan from a local supporter, the young warriors flee with Nicholson's physician into the lush forest, where unity and sanity slowly start to fray. Scored to disquieting electronic noises and plaintive orchestral tunes, Landes' spellbinding feature assumes the quality of a drug trip, evoking issues of alienation, control, sex, fear and loyalty through its young male and female protagonists' ordeal. In this saga about the self-destructiveness of war, the kids aren't alright.
8. Hagazussa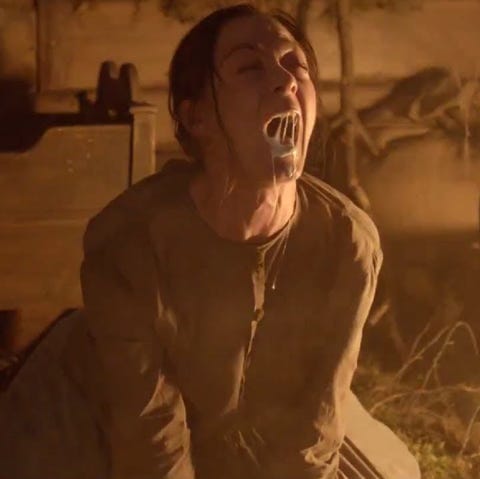 Doppelganger Releasing
Dark, demonic power courses through Hagazussa, a legitimately evil folk story of inheritance, corruption and damnation. In the Austrian Alps circa the 15th century, young Albrun (Celina Peter) tends to her mother (Claudia Martini), a supposed witch, in their remote log cabin. Years later, adult Albrun (Aleksandra Cwen) cares for her infant daughter in that same abode, whose only visitor is Swinda (Tanja Petrovsky), a neighbor who, like the local priest, seems concerned with saving ostracized Abrun's soul. Light on dialogue but heavy on black-magic mystery, writer/director Lukas Feigelfeld's fable casts its spell via slow-burn plotting and malevolent imagery, culminating with a kaleidoscopic underwater visual orgy of blood, roots, bone, tendrils, and mutating shapes. Like the mist that covers the mountainous region's treetops, suggestions of profane forces are everywhere – in the sight of Albrun milking her goat, or a shrine for a skull – and they burrow under one's skin, much like the unholy whispering and thunderous bass heard on a soundtrack that heralds madness, doom, the end.
8. Hagazussa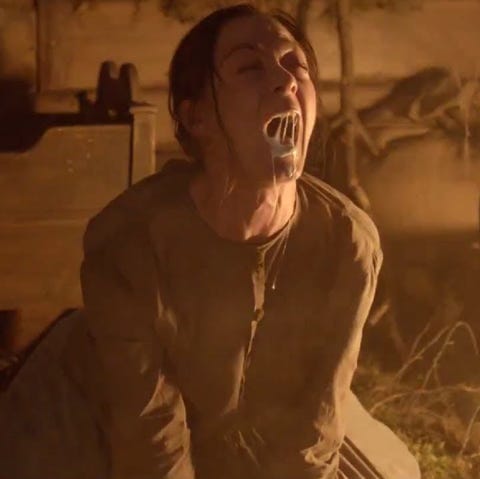 Doppelganger Releasing
Dark, demonic power courses through Hagazussa, a legitimately evil folk story of inheritance, corruption and damnation. In the Austrian Alps circa the 15th century, young Albrun (Celina Peter) tends to her mother (Claudia Martini), a supposed witch, in their remote log cabin. Years later, adult Albrun (Aleksandra Cwen) cares for her infant daughter in that same abode, whose only visitor is Swinda (Tanja Petrovsky), a neighbor who, like the local priest, seems concerned with saving ostracized Abrun's soul. Light on dialogue but heavy on black-magic mystery, writer/director Lukas Feigelfeld's fable casts its spell via slow-burn plotting and malevolent imagery, culminating with a kaleidoscopic underwater visual orgy of blood, roots, bone, tendrils, and mutating shapes. Like the mist that covers the mountainous region's treetops, suggestions of profane forces are everywhere – in the sight of Albrun milking her goat, or a shrine for a skull – and they burrow under one's skin, much like the unholy whispering and thunderous bass heard on a soundtrack that heralds madness, doom, the end.
7. The Beach Bum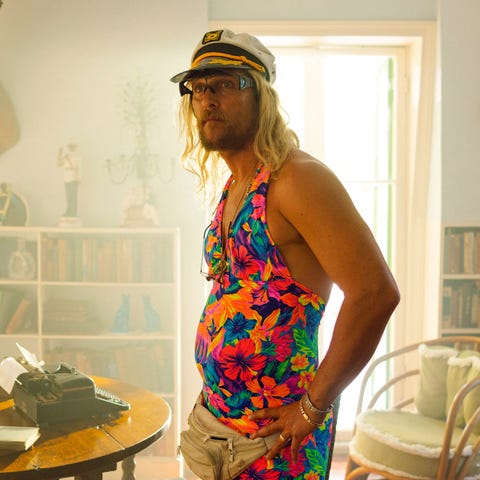 NEON
Matthew McConaughey is the king of bongo-drumming laissez-faire cool, and in The Beach Bum, he assumes the role he was born to play. That would be Moondog, a South Florida "bottom feeder" who, having set aside his once-illustrious poetry career, is now content to coast through his beachside town's many imbibing establishments, looking for his next toke, drink, and beautiful woman to bed. Writer/director Harmony Korine's shaggy-dog saga follows the bedraggled Moondog from one absurd adventure to the next (with, among others, Snoop Dogg, Isla Fisher, Zac Efron, Martin Lawrence and Jonah Hill), channeling both his gift for taking life as it comes, and his ability to derive sensualist pleasure from each new encounter. With long hair and a fanny pack permanently affixed around his waist, McConaughey is a magisterial stoner hedonist, and if his rollicking escapades aren't enough to deliver a potent contact high, Korine and cinematographer Benoît Debie's rapturously colorful portrait of Florida's posh and downtrodden milieus more than do the delirious trick.
6. Climax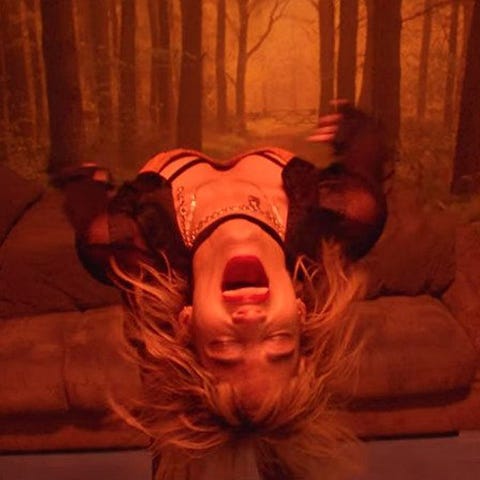 A24
Gaspar Noé's cinema routinely traces the line from harmony to chaos, and that's once again true in Climax, the inspired-by-real-events tale of a dance party descending into hellish madness. Beginning, portentously, with interviews seen on a television set surrounded by the director's favorite VHS horror films, the French auteur's latest is arguably his least provocative to date. Regardless, it's still an escalating freak-out scored to thumping electronica and populated by a raft of potential monsters. Even during its more serene earlygoing, his characters' choreographed numbers exhibit a frightening intensity, and once these artists unwittingly drink some LSD-spiked punch, their emotional equilibrium and interpersonal relationships spiral terrifyingly out of control. Often executed in long single takes, Noé's swirling, floating, slithering camerawork is as dexterous as his physically agile subjects. The result is an aesthetic performance piece that feels like the psychosexual underworld dance extravaganza that Luca Guadagnino's Suspiria wanted to be, replete with a finale that takes up residence in some hallucinatory ninth circle of Hell.
5. Under the Silver Lake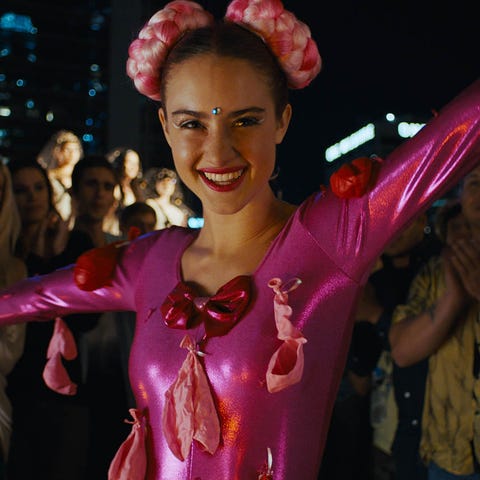 A24
There are codes within codes within codes in Under the Silver Lake, David Robert Mitchell's deliriously shambolic neo-noir about stoner sleuth Sam (Andrew Garfield, never better) traversing a Lynch-ian L.A. landscape in search of a mysterious missing beauty (Riley Keough). Also channeling the spirit of Robert Altman, Brian De Palma, Alfred Hitchcock and Hollywood golden-age classics (set to a Henry Mancini-esque score), Sam's cine-odyssey is a quest for meaning in an overstuffed pop-culture world. Movies and myths collide, both mirthfully and mournful, as Sam strives to uncover the knotty conspiracy-theory connections linking everything and everyone. From Super Mario Bros., new-age cultists, pirates and bomb-shelter tombs, to masturbatory porn patterns, dog killers, comic books (Spider-Man, wink wink) and song lyrics scribbled on pizza boxes, secret world-governing ciphers are ubiquitous. Mitchell reveals them through an adventure that's witty, aesthetically dexterous, and laced with dark disillusionment about the puppetmaster powers-that-be and their covert machinations. Reconfiguring noir's fatalistic heart for our tangled modern condition, it's a portrait of the surreal new bleakness, with everything part of a grander whole that offers no substance or solace – leaving only that eternal desire for truth, and togetherness.
4. Transit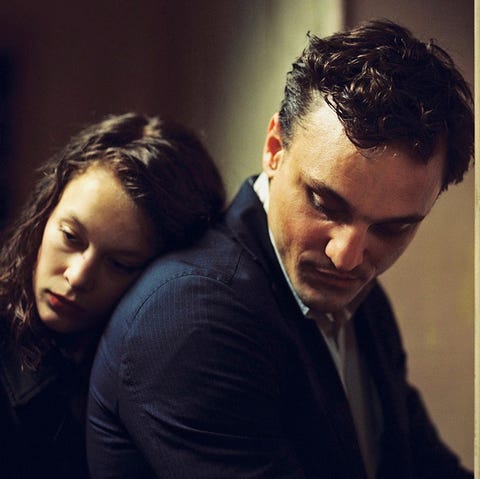 Music Box Films
In a Europe that simultaneously resembles today and 1940, German expat Georg (Franz Rogowski) endeavors to escape Paris before the arrival of encroaching Nazi-esque fascists. Arriving in Marseilles, he befriends the African son (Lilien Batman) and wife (Maryam Zaree) of a former comrade. Through circumstance, he also assumes the guise of famous writer Weidel, whose possessions he acquires and whose documentation permitting travel to Mexico await him at the port city's embassy. So too does Weidel's wife Marie (Paula Beer), who repeatedly mistakes Georg for her husband, and who longs for reunion even as she continues an affair with a man (Godehard Giese) whose obsessive amour prevents him from departing. Borders to cross and barriers impeding passage are omnipresent in Transit, which like so much of writer/director Christian Petzold's transition-fixated oeuvre, is a forlorn romantic reverie about identity, regret, trauma and rebirth. Moreover, it's another of his masterworks to confront issues of personal and national consciousness through a distinct cine-filter, with Casablanca and The Passenger proving two of its many spiritual touchstones. Its characters linked by spectral bonds they can feel if not quite identify (or control), it's an entrancing and inherently mysterious ghost story that's both timeless and, sadly, of our particular moment.
3. The Irishman
Reuniting him with his favorite stars (as well as Al Pacino), and clocking in at a whopping 209 minutes, The Irishman serves as Martin Scorsese's grand closing statement on the gangster genre he helped elevate to greatness with 1990's Goodfellas and 1995's Casino. Using revolutionary (and largely effective) de-aging CGI to make his cast appear decades younger, the director's adaptation of Charles Brandt's non-fiction book I Heard You Paint Houses recounts the criminal life of Frank Sheeran (Robert De Niro), an enforcer for mafioso Russell Bufalino (Joe Pesci) and close compatriot of Teamsters bigwig Jimmy Hoffa (Pacino), the latter of whom he reportedly executed in 1975. An era-spanning tale that charts the intersections of the mob and domestic politics (including the election and assassination of JFK), Scorsese's film is also a flashback-layered drama about the passage of time, and the impact – or chilling lack thereof – that regret, treachery and immorality have on a man's soul. Led by bravura turns from its leads (Pesci quiet and menacing; De Niro stoic and empty; Pacino fiery and charismatic), it's an epic about American corruption and underworld dishonor.
2. Marriage Story
Divorce is a cataclysm that destroys the past, present and future—as well as forces one to reconfigure their very sense of self—and Noah Baumbach's Marriage Story captures that upheaval with stinging authenticity and insight. The separation of Brooklyn theater director Charlie (Adam Driver) and actress Nicole (Scarlett Johansson) begins with amicable intentions but soon devolves into a costly and traumatizing legal war that's carried out by cutthroat, self-interested lawyers (Laura Dern, Ray Liotta), and strands the couple's young son Henry (Azhy Robertson) in the middle of a figurative (and, at one point, literal) tug of war. Their ensuing custody fight centers on which coast their kid will call home, and Baumbach's sharp writing and visuals—full of close-ups of pain and fury, and remote compositions that separate and isolate his adrift protagonists—locates the way in which that battle inevitably warps that which was once good, leaving only resentment and ruin in its wake. No film on the subject has ever been this bracingly true to life, and much of the credit for that triumph goes to Driver and Johansson, whose superlative dueling performances—wounded and righteous, forlorn and furious, and marked by respective musical numbers—are as subtle as they are wrenchingly real.
1. The Lighthouse
The allure of the light drives two men into pitch-black madness in Robert Eggers' The Lighthouse, a work of period-piece insanity that more than fulfills the promise of his 2015 debut The Witch. On a New England rock enshrouded in crashing-wave mist and bombarded with torrential rain, 19th-century lighthouse keepers Thomas Wake (Willem Dafoe) and Ephraim Winslow (Robert Pattinson) tend to their duties, with the former manning the illuminated tower and the latter maintaining their domicile and coal-burning furnace. Their laborious toil is compounded first by interpersonal tensions over Wake's possessiveness regarding the lighthouse itself, and then by run-ins with squawking gulls (vessels for dead sailors' spirits, says Wake) and visions of slimy tentacles and inviting mermaids. Shot in luminously grainy 4:3 black-and-white that gives the action the look of a weathered old photograph, scored to unholy bellowing and siren shrieks, and driven by ornate storybook dialogue fit for a nautical nightmare, it's a film about guilt, shame and greed (and the psychosis it begets) that exudes cramped, soggy malevolence. Dafoe's curse to the maritime gods is an all-timer, and a superb Pattinson matches his sloshed, wild-eyed lunacy step for floorboard-creaking step. Eggers eventually drowns his material in slithering sexualized imagery of a crazed sort, and caps things off in a manner that's all the more cautionary-tale haunting for remaining so unforgettably oblique.
SOURCE https://www.esquire.com/entertainment/movies/g24561951/best-movies-of-2019/