With season 5 almost upon us, it's time to look at how you can be more Tommy Shelby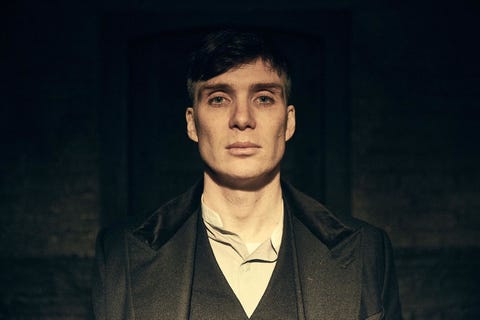 Few shows over the past decade have had as great an impact on British men's style as Peaky Blinders. A Twenties-inspired look typified by heavy fabrics, cropped trousers, sturdy boots and baker boy caps, Cillian Murphy's portrayal of a nattily-dressed ganglord continues to grip style habits both on the high street and across high fashion (Gucci's Alessandro Michele, amongst others, has cited vintage British style as one of his biggest inspirations).
That's all down to costume designer Stephanie Collie, who worked on the first series and based the uniform on modish criminal mug shots from the early 20th century. "They had been taken so beautifully, and you could see everything in so much detail: the cufflinks, the tie-pins, the textures," she tells us. So why is it that Peaky Blinders style has resonated so consistently? "Because, at heart, I think every Englishman wants to wear a suit."
We tend to agree. Now, we don't advocate basing your entire sense of personal style on a series or film, but with a few tweaks and a bit of restraint there's plenty to be gained from the show's wardrobe. Here are the 5 key elements to achieving that subtle Peaky Blinders look:
1 | The Jacket
When it comes to your outerwear, your coat should be long, lapelled and heavy enough to withstand the depths of a Birmingham winter (or at least the walk from the station to your office).
"We deliberately used longer coats to get that high noon feeling, when the gangs are walking to each other" reveals Stephanie. "Gunslingers going against each other, as their coats flap in the wind".
Prince of Wales check, herringbone tweed and other heritage patterns and fabrics are good options, but you'll do just as well with plain dark shades of charcoal, navy, racing green and black.
2 | The Suits
"We had a couple of suits made for Cillian, from a fantastic tailor called Keith Watson," says Collie. "You need a good three piece suit. [For the Peaky Blinders look] I'd suggest that you get the trousers narrowed and shortened. I think if even one man has bought a suit because of Peaky, I'll be very, very happy."
Tweed, checks and textured grey, blue and brown suits are the order of the day for the Shelby clan. Of course, if you want to go for the whole shebang, opt for a waistcoat too.
3 | The Shirt
One of the most instantly recognisable aspects of the Peaky Blinders style is the gang's rotating rail of stylish penny collar shirts. Featuring a smaller, rounder collar than your usual button-up, a penny collar acts as a solid middle-ground between the granddad collar and traditional collar shirt.
That's not to say that a granddad collar won't do the job. Style yours in crisp white, fully-buttoned, for that Cillian look. Or swap in something darker in soft flannel with a few buttons undone for a more casual winter weekend style.
4 | The Boots
An essential element in any even vaguely Blinders-esque look is a pair of solid, stylish and well worn leather boots in dark brown or black leather. "A good pair of lace up boots that go above your ankle," advises Collie.
A great pairing with the higher crop of your trousers, give yours a few laps around the Sunday food market (or an underground bare knuckle boxing match in gangland Birmingham) for the full give-a-f*ck effect, which is, of course, vital.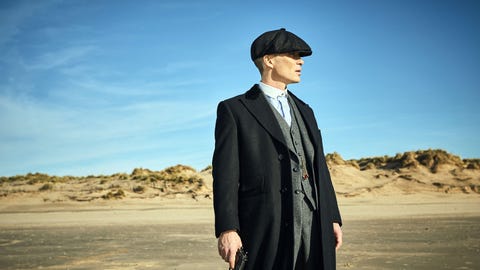 5 | The Hat
They may seem intimidating bulky, but you needn't worry about pulling off a baker boy cap. "They're a really easy thing to wear," says Collie. "Pick the right six-piece section cap, and I think you'd have a great outfit."
When it comes to authenticity and quality, Lock & Co Hatters is the place to go. The St. James Street institution has been crafting hats since the mid-1600s, so they know a thing or two. Alternatively, you could opt for a flat cap instead.
SOURCE https://www.esquire.com/uk/style/a18154/peaky-blinders-cillian-murphy-style-inspiration/